Nigeria is among the countries in the world with a very weak health system despite her enormous natural and human resources. It is sad that Nigerians have continued to die of preventable diseases that have been eradicated in some parts of the world. However, some kind-hearted Nigerians including those in the diaspora have continued to complement the efforts of the government particularly in the health sector through free medical programmes that gulp several thousands of naira.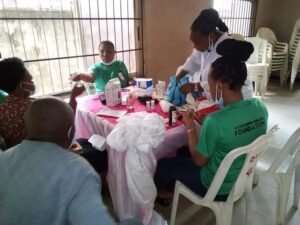 One of such persons is Dr. Victor Chinedu Egbulefu, a US based Pharmacist and philanthropist from Osusu Community in Aba North local government area. Dr. Egbulefu on Friday flagged off the maiden edition of his Community Health Fair at Osusu Civic Hall along Faulks road, Aba. The essence of the programme which is being implemented through the Victor Chinedu Egbulefu Foundation, is to bring succor to sufferers of some non communicable diseases such as hypertension, diabetes, ulcer, stroke among others.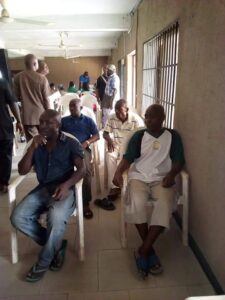 "Health care is paramount to me. We are given away free and quality drugs and the diseases we are dealing with are hypertension, diabetes, ulcer and to prevent stroke. Stroke is prevalent in Nigeria owing to lack of Blood Pressure control. High Blood Pressure is a silent killer and my biggest concern is that our elderly ones don't have access to quality drugs. My goal is to help the less- privileged and see if I can keep my community healthy" he said.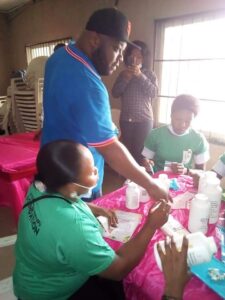 Apart from health, Dr. Egbulefu plans to venture into other areas of human development such as sports and education. At present, he has awarded scholarships to some students in secondary schools and institutions of higher learning.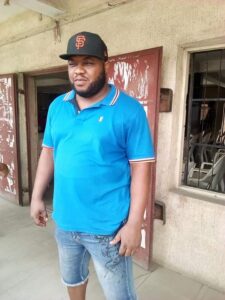 The Community Health Fair which was declared open by the Enyi 1 of Aba, Eze Isaac Ikonne, would take place quarterly. In line with the age- long saying "charity begins at home", Dr. Egbulefu, the first in a family of five, decided to kick off the free medical scheme in his country home, Osusu. It will be extended to other parts of the state. According to him, the philanthropic act is his own way of saying thank you to members of his immediate community and others. He explained how the idea of the programme was mulled about four years ago.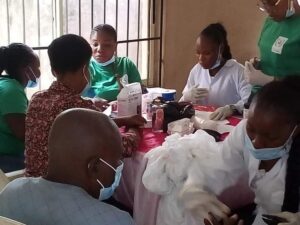 "Three years ago, my brother performed a surgery at Isiugwu in Obingwa local government area. It's very unfortunate that my brother performed the surgery with touch light. That incident annoyed me and I thought I should do my part. Most of us outside Nigeria like to criticise the government. When we also criticise, we should do our own part. That's how the vision came up and I want to continue doing it".
A volunteer and a medical practitioner from the Abia State Ministry of Health, Dr. Emmanuel Ogbonna commended Dr. Egbulefu for his philanthropic act and also for placing premium on the health of his people.
"The drugs are imported and they are purely original. Most of the dosages we have here are four times what we have in Nigeria".
One of the beneficiaries of the free medical programme, Mrs. Cynthia Mentor, an ulcer patient, expressed happiness with the programme and thanked Dr. Egbulefu for identifying with the less- privileged.
Dr. Victor Chinedu Egbulefu bagged a Doctor of Pharmacy from Temple University of Pharmacy in Philadelphia, Pennsylvania.