A controversial social media influencer, Jackson Ude has taken to his Twitter page to allege that all is not well with the Presidential Election Petition Tribunal if the news filtering from the tweet is anything to go bye.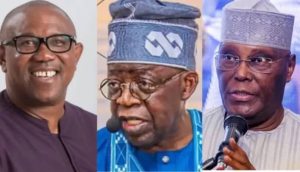 Jackson Ude tweet reads :-
"In a shocking and unprecedented move, Nigerian Justice Boloukuoromo M. Ugo has resigned from the bench, citing demands from the executive branch that he believes would destroy the country's democracy.
In a statement, Justice Ugo said that siding with the government on this matter would be the 'death of Nigeria's democracy', and that he could not in good conscience remain silent. His resignation has sent shockwaves through the country, and raised serious questions about the state of Nigeria's democratic institutions.
According to Justice Ugo's statement, he was asked to 'cripple the independence of the judiciary' by ruling in favor of a certain political candidate, whom he did not name but is widely believed to be Bola Tinubu.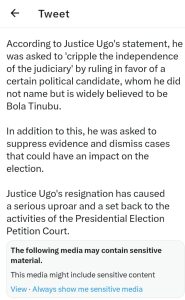 In addition to this, he was asked to suppress evidence and dismiss cases that could have an impact on the election.
Justice Ugo's resignation has caused a serious uproar and a set back to the activities of the Presidential Election Petition Court.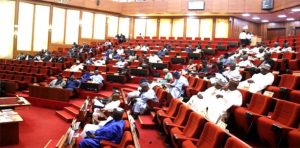 As at the time of filling this report, there has not been any official confirmation on the alleged resignation.