Troops of Joint Task Force South East Operation UDO KA II based on intelligence continued with its clearance operations to Lilu Community, Mother Valley and Orsumoghu Forest in Orsu Local Government Area of Imo State and Ihiala Local Government Area of Anambra State respectively on Saturday, 14 October 2023.
During the clearance operations, troops encountered and detonated many Improvised Explosive Device (IEDs) insitu as well as various type of obstacles. The undeterred troops also came in contact with the terrorists who fled into the nearby bushes with gunshot wounds due to superior fire power. Several camps and shrines of the terrorists were destroyed. One suspect was arrested and items recovered at the camps include; IED making materials, motorcycles, stored foods and other logistics items.
Joint Task Force Operation UDO KA II therefore, call on the law abiding and good citizens of the South-East region not to relent in providing timely, credible and reliable Information which will help in apprehending those that escaped with different degrees of injuries. We also wish to use this medium to urge the good people of the South East region to ignore the deceitful tweet of the self acclaimed Biafra leader Simon Ekpa and be rest assured that the South East region will be free of all forms of criminality.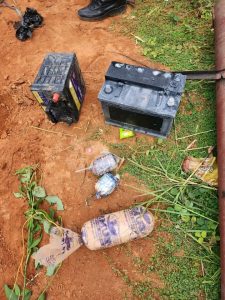 Operation UDO KA II will continue combating crime and criminality in accordance with the extant rules and regulations guiding its operations.
JONAH UNUAKHALU
Lieutenant Colonel
for Joint Task Force
Operation UDO KA II
15 October 2023