A Senior Advocate of Nigeria, Femi Falana, has disclosed that the Central Bank of Nigeria (CBN) collected approximately 3.2 trillion Naira from various sources but had only printed 402 billion Naira when it tried to phase out the old N200, N500 and N100 notes with new ones.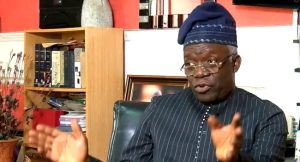 Speaking on Monday's edition of Channels Television's Sunrise Daily, Falana berated former central bank governor, Godwin Emefiele, for the currency redesign earlier in the year which led to a scarcity of the naira currency at the time.
In response to these distressing events that followed the naira redesign policy, Falana said he took legal action by invoking the Freedom of Information Act, submitting a request to the Central Bank to disclose the exact amount of money that had been printed.
"I had to write to the central bank under the Freedom of Information Act to know how much was printed.
"To my utter dismay the central bank collected about 3.2 trillion from customers and others the bank only printed 402 billion naira," he said.
The human rights lawyer emphasised the urgency of utilizing the law to combat corruption and gather essential information to protect the interests of the people.
"We must take advantage of the law and use the law to enforce corruption and get information to defend our people," he said.
Also speaking on the programme, Falana said it is against the federal character principle for the chairmen of the two anti-graft federal agencies in Nigeria, the Economic and Financial Crimes Commission (EFCC) and the Independent Corrupt Practices and Other Related Offences Commission (ICPC) to come from the same geopolitical zone.
The senior lawyer said that if the EFCC chairman is from the northern region, the southern region should produce the chairman of the ICPC.
"If you are going to have the EFCC and the ICPC, the heads cannot come from the same zone," he said.