In a somber turn of events on Nigeria's Independence Day, Edo State witnessed a devastating tragedy that left over 100 lives in ashes as a fuel-laden tanker met a fiery end on the Benin-Sapele Road.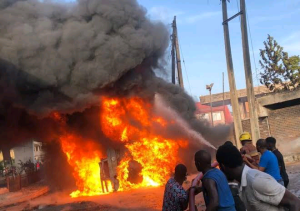 Newsmirror reports that the horrific incident occurred near Ologbo, a community marking the boundary between Edo and Delta states where the fuel-laden tanker was reported to have fallen on the road.
The disaster unfolded when the tanker, en route to Benin, lost control and toppled due to the deplorable condition of the road.
Some locals, mostly stranded travelers, rushed to scoop fuel from the wreckage when a spark ignited the volatile cargo.
The inferno roared, devouring everything in its path, leaving devastation in its wake.
As of now, the exact number of vehicles incinerated in the fiery tempest remains unconfirmed.
Reports said that the fuel tanker accident in the afternoon of Sunday, October 1, was still raging as of the time of this report.
Edo State Governor has sympathetized with the victims of the inferno.
OBASEKI COMMISERATES WITH FAMILIES OF VICTIMS OF KOKO JUNCTION TANKER EXPLOSION.
The Edo State Governor, Mr. Godwin Obaseki has commiserated with the families of the victims of the petrol tanker explosion at Koko Junction, in Delta State.
In a statement, the governor expressed sadness over the unfortunate incident, noting that the loss of lives was regrettable.
He said, "We are saddened by the news of the petrol tanker explosion in Koko Junction, Delta State.
"We commiserate with the government and people of Delta State over the tragic incident. We sympathise with the families of the victims."
Obaseki urged, "Nigerians to desist from attempting to scoop petrol whenever there is an accident involving tankers. It is pertinent to consider safety first and report to appropriate authorities in such instances."