An unidentified reckless driver tragically killed a family of six last Sunday in Nekede Community, Owerri West Local Government Area of Imo State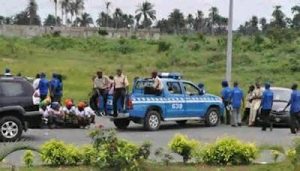 The Incident occurred near the maternity junction close to the Federal Polytechnic Nekede in Owerri.
The family head, Kenneth Ukaruka, known as Arthur, was a disabled Para-Badminton Silver Medalist.
He was riding a motorcycle with some of his children, while another two motorcycles carried his wife, house girl, and other children.
They were all moving in a lane when the reckless driver collided with them, leading to the deaths of Arthur, his wife, their 14-month-old child, and the house girl. Two sons succumbed to their injuries later in an Owerri hospital.
A neighbour of the deceased family, Prince Mekoyor, revealed that the reckless driver believed to be intoxicated, swerved off his lane and struck the family. Arthur, who had only one hand, was scheduled to represent Nigeria in a Disabled Badminton competition in the United States on August 14.
Mekoyor shared that the driver was not the owner of the RX 3:30 Lexus Jeep but was borrowing the vehicle to withdraw money for a drink purchase at Holy Family junction Poly Nekede.
He recounted that the driver sped off to an ATM at the Master's Energy fuel station on Aba Road in Owerri. On his return, the driver lost control of the vehicle's steering at Maternity Junction Polynek and collided head-on with Arthur's family.
While Arthur and his family were on their way to town around 11:05 pm, the suspect was heading to Federal Polytechnic Nekede when he veered out of his lane and crashed into them.
Arthur was carrying his wife and 1-year-old daughter on his motorcycle, while another bike was carrying his maid and two sons aged around 7 and 5 years.
Arthur and his first child died on the spot, while his wife, the bike rider, and the second child died at the Federal Medical Centre (FMC) Owerri.
The couple's youngest daughter survived without injuries, while the maid suffered a broken leg and head injury. Another man and his wife and child who were running with them on the same lane were also hit by the car.
The Imo State Police Command Public Relations Officer, ASP Henry Okoye, described the incident as an unfortunate accident.
He confirmed that three of the persons involved in the accident were receiving medical attention at an undisclosed hospital.
Justina Opara, the Badminton Coach in Imo State, confirmed the tragic incident and described Arthur as a hardworking individual who had represented the state and the country in national and international competitions.