The remains of three family members who died in the ill-fated building collapse in Nnewi last month have been buried at Nimo, Njikoka Local Government Area of Anambra State.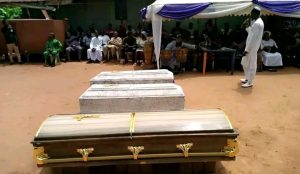 The Late Mr. Chizoba Anaefuna, aged 48, and his two sons, Udoka, aged 13 and Uzochukwu, aged 9, lost their lives when a storey building with a pent house collapsed at Egbu Umuenem, Otolo Nnewi, Nnewi North LGA while they were carrying out electrical work in it on September 2.
One person, however, survived the incident after he was rescued from the collapsed building, still under construction, and rushed to a hospital in Nnewi.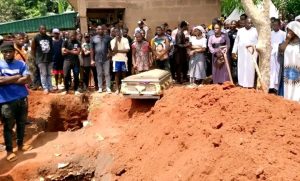 While some claimed that Mr. Anaefuna was the contractor in-charge of the collapsed building, others who are close to the deceased, including family members, insisted he was a trained electrical engineer on electrical work in the collapsed building.
After ABS broke the news of the unfortunate incident, the Anambra State Police Public Relations Officer, PPRO, Tochukwu Ikenga, said police has taken over the scene of the collapsed building, and was working with relevant agencies to uncover what caused the collapse in order to take necessary actions in line with extant laws.
It is not clear if the investigation has been concluded, even as some people say that the case of building collapse is still being treated with kids gloves in the state.
In his sermon at a religious rite for the burial of the dead, Evangelist Chimezie Nwankemnadu from the Ark of God Convenant Church, Nimo, reminded people gathered that life on earth is transient, a reason for total repentance.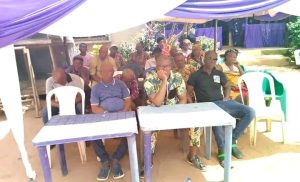 Bidding his late father and younger brothers farewell, 15 year old Master Obinna Anaefuna said his father was a Pastor and into electrical engineering work in his lifetime, and that he has lost a care giver and playmates.
Other family members, Church members, friends, teachers and school mates who shared fond memories with the deceased said only God knows why the unfortunate incident happened.
ABS