In a surprising revelation, Nigerian singer Olawale Ibrahim Ashimi, popularly known as Brymo, disclosed the reason behind his decision to turn down a feature request from his female colleague, Simi.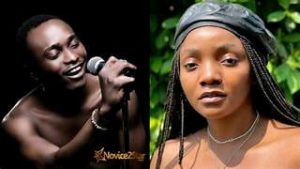 The revelation came to light in a recent exchange with a fan on social media.
When a fan suggested that Simi's husband, Adekunle Gold, should consider featuring Brymo on his upcoming album, 'Tequila Ever After,' the singer responded candidly.
Brymo disclosed that both Adekunle Gold and Simi had approached him for collaborations in the past, but he declined their requests.
The reason cited by Brymo for turning down the opportunity to work with Simi was that she refused to "get intimate" with him.
He shared on social media, "Though AG reached out later, I like to think that he didn't check in again, by will or fate, because I turned down the same request many years before. I also did the same with Simi, saying I wanted to get intimate to create intensity. I didn't know they were together, of course."
The revelation has sparked discussions among fans and followers, with many expressing surprise at Brymo's candidness and the circumstances surrounding his decision.
While the singer did not provide further details or context regarding the timeline of these interactions, his revelation has generated considerable attention on social media platforms.