Controversial Nollywood actress, Halima Abubakar has finally updated the general public about her alleged relationship with the founder of the Omega Fire Ministry, Apostle Johnson Suleman.
It was earlier reported that the embattled cleric filed a lawsuit against the ailing actress over defamation of his character, and she countered the suit by sending a video of how Apostle Suleman sent her 500,000.
But, in a new development, the actress opened up about their relationship and how she bleed for several years and lost the pregnancy she had for Apostle Suleman.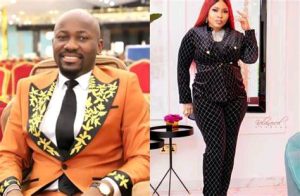 Halima also accused the cleric of not keeping to his promise to marry her and being behind an undisclosed life-threatening ailment that had plagued her for years.
However, in a new Instagram live Video with Comedian Princess, Halima claimed Suleman proposed to her more than seven times during their relationship.
She further narrated that she bled for four years and lost three pregnancies.
"The blood never stopped and he was still having sex with me like that. I didn't read any meaning to it because I wasn't a spiritual person and he used to have sex with me during my period so I thought it was normal.
"When I lost it, he was crying that I lost his child. You will think that it was real. I got pregnant three times, the last one left me bleeding, I had to take a tablet for it to stop.
"I was bleeding for four years. He was sleeping with me even while I was bleeding, that is the dangerous part of it and he was telling me he can't sleep with anybody, it was okay because it is me.
The whole thing caught me unaware, I was naive and was not a spiritual person. I did not know if it was love.
"These are some of the pictures Suleman and I snapped together at a hotel on Valentine's Day. He even sent me some of his personal pictures. He was 41 years old at the time. I have a printout of the bank transactions between us," she further claimed.