Russian President Vladimir Putin vowed to crush an armed mutiny after the private army of mercenary boss Yevgeny Prigozhin seized control of a southern city as part of an attempt to oust the military leadership.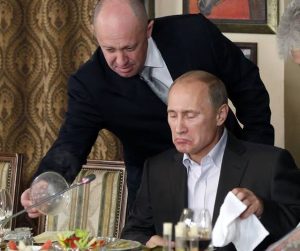 BBC News Russian sources also say Wagner mercenaries have seized military facilities in Voronezh, which is halfway between Rostov and Moscow
Prigozhin has threatened to march on Moscow unless he meets Russia's defence minister – and the UK says Wagner troops are heading towards the capital
In Russia's first armed insurrection since the Chechen wars decades ago, heavily armed fighters from Prigozhin's Wagner militia were in control of the streets of Rostov-on-Don, a city of more than a million people close to the border with Ukraine.
Prigozhin, whose private army fought the bloodiest battles in Ukraine even as he feuded for months with the top brass, said he had captured the headquarters of Russia's Southern Military District after leading his forces into Russia from Ukraine.
In Rostov, which serves as the main rear logistical hub for Russia's entire invasion force, residents milled about, filming on mobile phones, as Wagner fighters in armored vehicles and huge battle tanks took up positions in the city center.
One tank was wedged between stucco buildings with posters advertising the circus. Another had "Siberia" daubed in red paint across the front, a clear statement of intent to sweep across the breadth of Russia.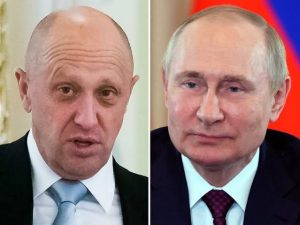 A Russian security source said that Wagner fighters had also seized military facilities in the city of Voronezh, further north on the road toward Moscow, where the governor said operations were underway to put down the mutiny. Reporters could not independently confirm the situation there.
In Moscow, there was an increased security presence on the streets. Red Square was blocked off by metal barriers.
"Excessive ambitions and vested interests have led to treason," Putin said in a televised address.
"It is a blow to Russia, to our people. And our actions to defend the fatherland against such a threat will be harsh.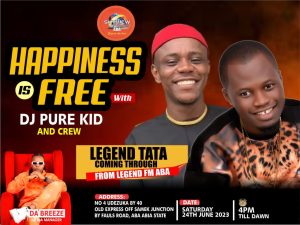 "All those who deliberately stepped on the path of betrayal, who prepared an armed insurrection, who took the path of blackmail and terrorist methods, will suffer inevitable punishment, will answer both to the law and to our people."
A defiant Prigozhin swiftly replied that he and his men had no intention of turning themselves in.
"The president makes a deep mistake when he talks about treason. We are patriots of our motherland, we fought and are fighting for it," Prigozh said in an audio message. "We don't want the country to continue to live in corruption and deceit."
In a series of hectic messages overnight, Prigozhin demanded Defense Minister Sergei Shoigu and the chief of the general staff, Valery Gerasimov, come to see him in Rostov.
Western capitals said they were closely following the situation in nuclear-armed Russia. The White House said President Joe Biden was briefed.
"This represents the most significant challenge to the Russian state in recent times," Britain's Defense Ministry said.
"Over the coming hours, the loyalty of Russia's security forces, and especially the Russian National Guard, will be key to how this crisis plays out."
Prigozhin, a former convict and longtime ally of Putin, leads a private army that includes thousands of former prisoners recruited from Russian jails.
His men took on the fiercest fighting of the 16-month Ukraine war, including the protracted battle for the eastern city of Bakhmut.
He railed for months against the regular army's top brass, accusing generals of incompetence and of withholding ammunition from his fighters. This month, he defied orders to sign a contract placing his troops under Defense Ministry command.
He launched the apparent mutiny on Friday after alleging that the military had killed a large number of his fighters in an airstrike. The Defense Ministry denied it.
"Those who destroyed our lads, who destroyed the lives of many tens of thousands of Russian soldiers, will be punished. I ask that no one offer resistance," Prigozhin said.
"There are 25,000 of us and we are going to figure out why chaos is happening in the country," he said, promising to destroy any checkpoints or air forces that got in Wagner's way. He later said his men had been involved in clashes with regular soldiers and had shot down a helicopter.
Russia's FSB security service opened a criminal case against Prigozhin for armed mutiny and said his statements were "calls for the start of an armed civil conflict on Russian territory."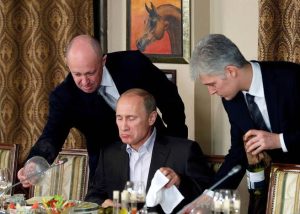 At about 2 a.m., Prigozhin posted a message on the Telegram app saying his forces were in Rostov and ready to "go all the way" against the top brass and destroy anyone who stood in their way.
At about 5 a.m., the administration of the Voronezh region, on the M-4 motorway between Rostov and Moscow, said on Telegram that a military convoy was on the highway and urged residents to avoid using it.
Unverified footage posted on social media showed a convoy of assorted military vehicles, including at least one tank and one armored vehicle on flatbed trucks. It was not clear where they were, or whether the covered trucks in the convoy contained fighters. Some of the vehicles were flying the Russian flag.
Prigozhin denied that he was trying to stage a military coup. He said he had led his fighters out of Ukraine to Rostov, where a video posted by a pro-Wagner Telegram channel showed him, seemingly relaxed, conversing with two generals at the Southern Military District headquarters.
"We have arrived here, we want to receive the chief of the general staff and Shoigu. Unless they come, we'll be here, we'll blockade the city of Rostov and head for Moscow," he said in the video.
Army Lt. Gen. Vladimir Alekseyev issued a video appeal asking Prigozhin to reconsider his actions.
"Only the president has the right to appoint the top leadership of the armed forces, and you are trying to encroach on his authority," he said.
An unverified video on a Telegram channel close to Wagner showed the purported scene of an airstrike against Wagner forces. It showed a forest where small fires were burning and trees appeared to have been broken by force. There appeared to be one body, but no more direct evidence of any attack.
It carried the caption: "A missile attack was launched on the camps of PMC (Private Military Company) Wagner. Many victims. According to eyewitnesses, the strike was delivered from the rear, that is, it was delivered by the military of the Russian Ministry of Defense."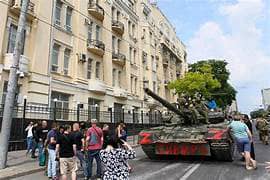 The Defense Ministry said the allegation was false. (Based on reports by Reuters and BBC).