NNPC was quick to tell us that they arrested a vessel with about 800,000 barrels of stolen crude oil, but despite revealing that the company that owns the ship is a Nigerian registered coy, they were silent on the owner(s) of the company.
WHO OWNS THE VESSEL WITH 800,000 LITERS OF STOLEN CRUDE ?
Nigeria's state-owned oil firm, NNPC Ltd announced on Monday that 800,000-litre (211,338-U.S. gallon) vessel carrying stolen crude had been intercepted offshore while heading to Cameroon.
Holab Maritime Services Limited with Henry Herbert Coker, James Nataniel Coker, Linda Aniekpette Coker and Abie Coker, as Directors, own the Vessel and the company registered in Nigeria with an address in Nigeria.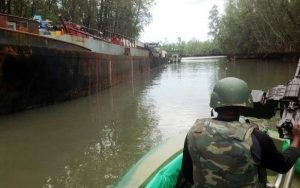 Authorities have been loud about intercepting and destroying the vessel but have been quiet about who owns the vessel.
Findings by Jackson Ude indicate that the listed owners are cronies of bigger oil thieves who are in Nigeria.