WHEN Professor Benjamin Nwabueze died on 29 October 2023, one thought it was time to stop deriding him as the one who applied his legal prowess to author the Unification Decree, they say caused the cessation of federalism in Nigeria. The lies have been built around propaganda applied to situate how Igbos ruined Nigeria with their ambition to dominate the country through Nwabueze.
In trying to diminish the intellectual fortress Nwabueze was, those who opposed him ended up making him a bigger masquerade, something he did no need or bother about.
How could he have single handedly written the decree? This could prove a weak defence. He was cerebral enough to write Constitutions in record time.
Nwabueze could not have imposed himself on the nine-member Supreme Military Council, which had two Igbo members, none of who was Nwabueze. Head of State, Maj-Gen Johnson Aguiyi-Ironsi, and Lt-Col Chukwuemeka Odumegwu-Ojukwu, Governor of Eastern Region, were the ones in the Council.
Belief, however nurtured, is personal. Most times it is based on blissful ignorance, blighted knowledge, or the more dangerous mixture of both. When such belief is challenged, the promoters recline to sheer abuse in defence. Nwabueze went through their fire.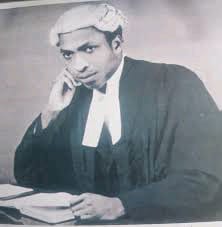 A powerful Nwabueze was unrelenting, by those accounts, in ensuring that his pet project continued. Not under his watch would Nigeria not use Decree 34 that was promulgated on 24 May 1966. Only two months after, Ironsi was killed on 29 July 1966. His successor Maj-Gen Yakubu Gowon quickly announced the abrogation of the decree, just three days after Ironsi's passing. A formal annulment came with a decree on 31 August 1966.
The Unification Decree ceased to be part of our laws 57 years ago. How did Nwabueze benefit from it? Did he operate the decree after the authorities abolished it? Who was this Nwabueze that held Nigeria to ransom with Decree 34? A one-man army or he had collaborators?

Nwabueze was a "foremost constitutional lawyer" when that expression was rendered with respect to brimming brilliance. He had a ceaseless dedication to leading others to an understanding of the law, particularly constitutional law, and his books dealt the intricacies of constitutionalism. He wrote Constitutions of three countries, taught Law in Nigeria and abroad, devoted his resources to writing law books.
Tributes to him state his standing better. Evance Kalula, Chairperson of the ILO Committee on Freedom of Association (CFA) and Emeritus Professor of Law, University of Cape Town, who was Nwabueze's student in Zambia in a lengthy tribute wrote about his independence, brilliance, stubbornness, but more importantly: "He was a remarkable man, an outstanding teacher, lawyer, law maker and scholar. He typified the excellence that Africa produces, for the most not fully acknowledged. He was an African treasure of the highest quality."
Credibility Group, a think tank, in a release by its President, Goddy Uwazuruike, described Nwabueze as a great man by all ramifications! "He was called the Oracle of Law by the great Rotimi Williams SAN of immortal memory. He was a consummate law, a professor of law who insisted on doing a written examination for his LLD (University of London conferred the degree on him based on his books), a mentor of many, the first academic to be conferred with the prestigious rank of Senior Advocate of Nigeria, a Secretary General of Ohanaeze, a Minister (Secretary) of Education in Nigeria, a professor of law in a good number of countries".

He was a member of the Senate of the Universities of Lagos, Dar es Salaam, Nairobi, Haile Selassie in Ethiopia, Lesotho, Botswana and Swaziland between 1971 – 1978. Apart from authoring over 34 books, Nwabueze equally wrote over 200 articles in academic journals and delivered more than 100 keynotes at local and international conferences.
He was appointed to Professorial Chairs in the following Universities; Zambia, 1970 – 75; Ahmadu Bello university, Zaria, 1974; University of Nigeria, Nsukka, 1975 – 76; Anambra State University of Technology; Nnamdi Azikiwe university, Awka 1989 – 1983 (visiting)
Do these explain why Nigeria continued without what some call "true federalism"? Nwabueze stopped Gowon, Murtala Mohammed, Olusegun Obasanjo (in his two appearances), Shehu Shagari, Muhammadu Buhari (two comings too), Ibrahim Babangida, Sani Abacha, Abdulsalami Abubakar, Umaru Musa Yar'Adua, Goodluck Jonathan, and possibly Bola Ahmed Tinubu from shaking off consequences of the Unification Decree that have maimed Nigeria?
A good look at the list of leaders since 1966 shows that none of Nwabueze's kinsmen, for who he purportedly made the decree, has been in the saddle for 57 years. If Nwabueze held Nigeria down, now that he has gone, it may be time to look at ourselves again to discard lies that we keep telling ourselves in ignoring extra-legal powers the authorities amass in wasting Nigeria's resources.
In the past 10 years, Nwabueze was strident about a new Constitution for Nigeria, noting that the 1979 Constitution Nigeria was misguided. "We were misguided, and that's the truth. We were guided by the feelings at the time in the country. It turned out that putting too much power at the centre was an invitation for disunity. Yes, that was what happened – disunity. Struggle for control at the centre with all that power led to disunity, and that is what landed us to where we are today," he said in a 2014 interview with Vanguard.
"He lived an exemplary life of consequence," Eni Nwabueze, who announced his death for the family said.
May the Almighty rest him.
Finally…
JOE Ajaero, President of the Nigeria Labour Congress, in a press briefing on Friday recounted how police who him arrested in Owerri handed him over to louts for thorough beating. The police's account differs slightly. They said they rescued Ajaero from further assaults. By the time the police took Ajaero away, he had not been brutalised. A man who met his friends debating whether Jonah, in the bible, swallowed the fish or the fish swallowed Jonah said there was no debate over "swallow". Whether the police beat Ajaero or louts did it, there was "beat".
EACH time rising prices of goods and services is mentioned, government jumps in with palliatives and promises to increase salaries of worker. How do these affect the unemployed, the unemployable, and those whose salaries are so low that no increase makes a difference to their welfare?
THE most thriving businesses are churches. While the founders are at it, they are running out of ideas on leveraging publicity to sustain the public's attention on their stunts. One big prophesy in the past week was that the government of Nigeria would establish a giant telecommunication company that would fail, and that VAT, prices of data, and airtime would rise. Great prophecies. Next ones, please.
MANAGEMENT of elections seems completely beyond us. If the elections are national, we hold that Nigeria is too vast to conduct elections that would meet the expectations of voters. In Bayelsa, Imo, and Kogi where governorship elections held on Saturday, the same complaints about late arrival of ballot papers, thuggery, and failed equipment would be heard.
Isiguzo is a major commentator for on minor issues