Christian Girls in Training (CGIT) an arm of the Presbyterian Church Of Nigeria, Solid Rock Parish Umuahia Abia State has honoured young Miss Ola Precious Chizaramekpere Ifeanyi-Okali as the 2023 baby of the year.
She was born in May 11 years after the marriage of her parents, Ifeanyi Okali and his wife, Oluchi.
The award was presented to OlaPre as she is popularly known by the minister in charge of the Parish, Rt Rev Ezera Ume.
The Christian Girls in Training, CGIT as an arm of the Presbyterian Church consists of Young girls aged from 1 – 21 years.
It is managed and supervised by spirit-filled individuals.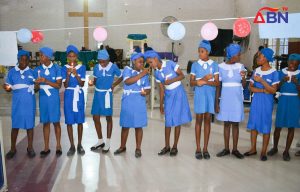 It is also saddled with the responsibility of investing on children and teenagers, specifically to prepare them for a fruitful future generation that will honour God and be corrupt-free.
In his response, father of the awardee and the Director ABN TV, Mr. Ifeanyi Okali expressed gratitude to the church for finding the young Ola Precious Chizaramekpere worthy of the award.
Describing her as a miracle child, he said OlaPre brought to an end years of tears and sorrow of childlessness, which spanned over a decade.
He assured that the family will continue to do its utmost best in raising her in the fear and admonition of the Lord.