The police in Ogun state have arrested a pastor with the Christ Liberty Evangelism Church, Rosco, Iyana Iyesi, Ota, Oyenekan Oluwaseyi, and three others for being in possession of a human skull.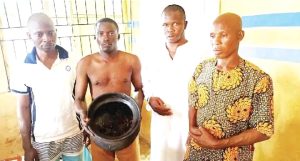 Punch reports that Oluwaseyi and the three others identified as 30-year-old Ibrahim Agbowewe, 40-year-old Suleiman Ogunbunmi, and 57-year-old Gafari Akinsanya, were arrested by men of the state police command in the early hours of Saturday, October 14. When apprehended, the suspects claimed they intended to use the skull for money rituals.
The suspects were arrested following a tip-off from members of the public about the suspects' suspicious movement and activities in the area. One big calabash, one black Toyota Camry car and one ram were found with the suspects.
Confirming the arrest, the spokesperson of the state police command, SP Omolola Odutola, said four suspects had confessed to the crime.
"We arrested the four of them. They have since confessed that they wanted to use the head for blessings and money rituals. The investigations are ongoing to unravel more details about the incident," Odutola said