Nigerian lady, Miss Chidera John from Arongwa, Osisioma LGA buries her father on 21 September 2023, graduated with first class honours in Biochemistry from Federal University Otuoke on the 30th of September 2023, had an accident and died on the 14th of October 2023.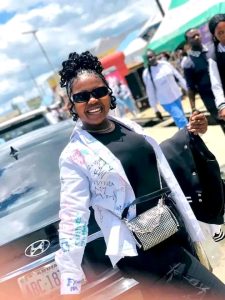 A Facebook post in FUO CONNECTS ✓ STUDENTS AND ASPIRANTS GROUP, it reads
????????????
#SadNews ????
Am sorry for bringing this news to the entire Biochemistry class of 2023???? & FUO at large.
We just lost Chidera John yesterday being Saturday 14th October 2023.
Her elderly brother-relative was trying to get to me cuz he has noticed I have post about her some time ago.
CHIDERA recently signed out from the department of BIOCHEMISTRY, on 30th, September 2023, and I was there with her rejoicing because of the friendship love I have for her since our first year in school????
Her elder relative told me how she visited ABA (Abia State) to see her mother, the incident happened on Saturday at a FUELING STATION were she was knocked down on a motorcycle, by another vehicle when she just left the Station where she went to fill their Gas Cylinder.
She was rushed to the hospital and was on coma were she later gave up????????‍♂️
Chidera couldn't make ????
Chidera lost her only father immediately after I lost my Dad on the 7th of March 2023.
I was inside the UBA Bank in FUO with her when she told me she's going for her father's burial, then I told her am also withdrawing cash to go for my father's last burial right if not, I could have joined her to hers????????‍♂️
Chidera is the only child of her remaining parent, her mum????
Very brilliant & has good grades in her Results, even this present one, "A's & B's".
I still remember how chidera will call me on phone & say, "Kayam please come home"???? I'll go and she'll make sweet dishes for me, then later at night, she'll go to the School girls hostel to sell female wears & come back.
At times myself & her roomie will stay up in the house discussing & playing till we all will sleep off till the next morning before I take my leave to my apartment ????
We were so comfortable with each other until her last day in school i.e, 30th September 2023.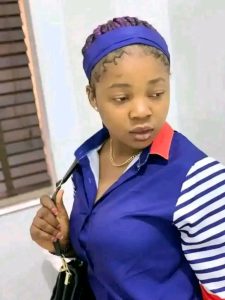 I wrote with my personal marker, CONGRATULATIONS!, on her white shirt on her last day of exam, not REST IN PEACE ????
MY LOVELY CHIDERA IS NO MORE????
With Sadness & Pain I am writing this post to the public.
She's the only daughter in the family, Her elder brother broke out, after having a Facebook voice call with him this morning, Sunday, 15th October 2023.
#RIP Chidera????????????????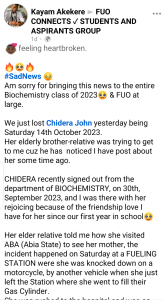 #GroupAdmin
#Kayam ????
????????????????????????????????????????????????
Video