In what may be seen as the reality of the sacked Abia workers by Dr. Alex Otti led administration, tagged " Ghost workers " , Abia sacked civil servants today staged a protest, against their dismissal from the State Civil Service by the Governor.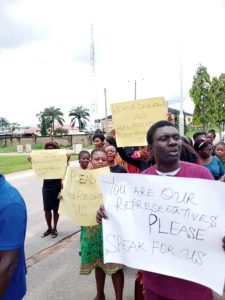 The select delegates of the sacked workers, stormed the premises of the Abia State House of Assembly, and lwere chanting various solidarity songs to express their bitterness over the development.
They were seen with placards that has some inscriptions like, " We are all Abians, Please Reinstate us, we are ready to work, " We have dependents, you are our representatives, please speak for us", among others.
Speaking to our reporter, one of the sacked workers, described their disengagement from the State Civil Service as unlawful and frowned at the development because the sacked workers were duly employed, issued appointment letters, did all documentation, and had worked for months.
They also decried the hardship they have faced since their disengagement and pleaded with the members of the State House of Assembly to come to their aid and use their good offices to intervene and ensure their reinstatement.
Addressing the sacked Abia workers on behalf of the Speaker of the House of Assembly, at the House of Assembly complex, the Chief Whip, Hon Emeka Obioma said they are aware of their plights and disengagement.
"The message is very clear, we have heard you very loud and clear. Let me apologize for the inability of the Speaker to be here to address you people. The plenary is ongoing but because of the importance he attached to this protest, he called me and mandated me to come here and speak to you people".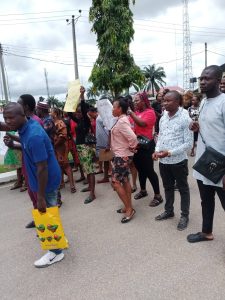 "The letter you have written is well self-explanatory, but we don't need the letters to know why you are here. We all know why you are here. There is Hope, our Governor is a listening Governor and the Speaker has asked me to assure you, that this message will be delivered to the Governor", Obioma said.
Recall that on August 31, 2023, the Governor of Abia State, Dr. Alex Otti through the State Head of Service, Lady Joy Maduka announced the official disengagement of all staff employed into the Abia State Public Service by the former Governor, Okezie Ikpeazu from January – May 2023 and tagged them Ghost workers. The protest today by a select delegation of the sacked workers has once again, ended the speculation that the over 7000 to 10,000 civil servants, sacked by Abia state Government as directed by Gov. Alex Otti are indeed human beings and not Ghosts.
Video