The Department of State Security (DSS) has arrested a 23-year-old Fildausi Musa Ahamadu, who threatened to commit suicide with all those she felt were responsible for the victory of the APC Governorship candidate in Kano, Nasiru Yusuf Gawuna at the State Elections Tribunal.
A source within the DSS who doesn't want his name published confirmed the arrest of Fildausi who claimed to be fighting for the New Nigeria Peoples Party (NNPP) Governor, Abba Kabir Yusuf in a viral video clip circulated in the state.
In the viral clip, Fildausi was overheard attacking the Lead Judge in the Governorship Elections Tribunal, warning that anywhere she sees her, she doesn't mind holding her with a bomb to commit suicide.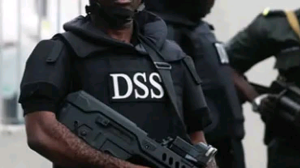 In the same vein, the 23-year-old Fildausi who was wearing a red inscribed facing cap, warned Gawuna of the APC, saying "You dare not indicate your location, either wise, I don't mind striking you with bomb vest to commit suicide".
Fildausi also uses the video clip to attack Vice President Kashim Shettima, calling him names, and blaming him for being behind the Court predicament of NNPP in Kano.
Already the reliable DSS source explained that they are after effecting the arrest of Fildausi Musa Ahamadu taking to Court her to Court.
"We are indeed taking Fildausi Musa Ahamadu to Court because these threats should not be played with," the Security source added.