.Controversial singer, Habeeb Okikiola, popularly known as Portable has boasted of having more glory than Pop music icon, Michael Jackson.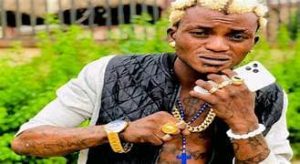 In a viral video, the singer could be seen driving when a crowd surrounded his car while hailing him in fanfare.
Enthused by the frenzy, Portable claimed that such an incident demonstrates his popularity.
"Why are you hitting my car. Don't jump on my car. Micheal Jackson's glory cannot match mine. This is madness. There is madness in Lagos," he said.
Jackson was a bigwig in the global music industry until his demise on June 25, 2009 in Los Angeles, California.