One Godwin Ugeelu Amadu who reportedly rose from the dead in Nasarawa State has narrated his encounter with angels in heaven.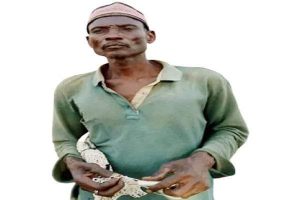 Residents of Gidan Angalu, a community in the Toto Local Government Area of the state were reportedly thrown into confusion when Amadu whom they had gathered to lay to rest two days after his death, instantly rose to life from the casket.
Naija News learnt that the 59-year-old native doctor had been confirmed dead by doctors at a private hospital in the community at about 6 am on September 5, 2022.
He was said to have been sick for days before his death and was immediately covered up and wheeled into the mortuary after doctors and family members affirmed that he was already dead.
His burial was, however, delayed for two days as family members awaited the arrival of his Abuja-based eldest son, Jacob Amadu.
Moreso, before his death, Amadu was said to have differently warned his children that he must be buried no later than three days in the hospital before burial and he must not be embalmed with Formaline.
However, while the families were making necessary arrangements for his burial two days later, the deceased rose to life.
The development, Naija News learnt sent Amadu's children, relatives and sympathisers away in fear as he was already in a casket ready for final burial when he suddenly rose.
The incident is said to have generated a barrage of reactions as residents and neighbouring communities arrived at the scene to witness what has happened.
Narrating his experience with The Nations during an interview days after the development, Amadu said he has now abandoned his native doctor career to become an evangelist.
According to him, before the sickness that eventually took his life, he had enjoyed good health and fully attended to patients who came from far distances to his village.
Amadu said he had begun to experience some strange pains in July and he tried treating himself as a native doctor but there appeared to be no improvement, prompting his two eldest children based in Abuja and one of his daughters based in Lafia to rush him to the Federal Medical Centre in Keffi.
At the hospital in Keffi, he was admitted for two weeks after which he was discharged and certified fit. But a week after he returned home, he developed severe chest pain.
Subsequently, Amadu instructed his children who had returned to their base in Abuja not to take him to the hospital again and also told them repeatedly not to keep his corpse longer than two or three days before burial.
With his condition getting worse, however, his children defied his instruction and returned him to a private hospital in a nearby community where he could get preliminary attention before he would be transferred to the Federal Medical Centre in Keffi where he had been treated before.
There, doctors battled to save his life before they thought he had given up the ghost and prepared him for burial.
We Saw Our Dead Father Rose From The Casket And Many Ran Away
Also narrating the unbelievable event, Amadu's eldest son, Jacob who spoke with journalists days after the event, said his father was declared dead while he was travelling from Abuja to see him on his sick bed in Nasarawa State.
According to him, he arrived at the hospital at about 10 am on September 5 and the mortician at the hospital wheeled out the trolley containing his father and unveiled his face.
Jacob said he moved closer and confirmed that it was his father and he was already dead.
"We advised the hospital not to embalm him because he told us repeatedly not to embalm him when he dies and to bury him immediately rather than keep his corpse inside a room.
"So we hurriedly left for the village to mobilise young men to help dig his grave so that we could bury him the second or third day as he had wished," Jacob said.
He explained further that while his late father's body had been displayed on an open roof where he normally attended to his patients as a native doctor, the children brought the casket and put his body inside, preparatory for his burial, but to their shock, he suddenly rose from the casket.
Jacob added: "We were in the village when we suddenly saw the casket shaking and eventually fell and my father woke up to the surprise of many people in the village. A lot of the men and women who had gathered ran away, believing that it was his ghost.
"I summoned courage as a man to walk up to him and got a seat for him to sit on. He was not talking.
"I later held his hand and led him to the bathroom. He had a bath and after a few hours, he requested food. He ate and then relaxed. "In the evening of the next day, he started talking a little and on the third day, he tried to narrate his experience."
I Saw A 75ft Tall Angel In What Looks Like Heaven
Sharing his heaven-like experience with newsmen, Amadu at an interaction session said he could not fully recollect all that transpired during his struggles in the throes of death except that he was writhing in pains at one moment, felt relieved moments later and found himself in another world.
Amadu said: "I thank God that he has given me life again after tasting death. It is a miracle that God gave me a second chance and I think I will dedicate the days he has given me to live again to worship him and preach his gospel.
"My journey to heaven was a tranquil one. I feel very confused about what God has done to me. All I can remember for now is that I lost my memory when I was sick, but people later gathered in my village to mourn my passing.
"The cloud opened up and I saw something like a giant golden satellite suspended in space. I wouldn't know whether this is what the bible calls heaven, but there I was greeted by a 75ft tall angel who stood in front of the gate.
"The angel had a beautiful sword and wore something like golden hair. As I looked around, I discovered that there were two other angels behind him holding pamphlets and books containing the words of God.
"The three angels had a brief discussion among themselves and later allowed me into the city of heaven.
"On entering the city, I met a childhood friend who died 22 years ago. His name was Choko Aguma. He was the one who took me round the city where everybody was committed to worshipping God," Amadu added.