Aba, the popular Enyimba City, was shut down on Saturday, October 1, 2022, as a world-renowned petroleum engineer and MIT University Sloan Fellow led hundreds of thousands of 'Obidients' in a one-million-man march around the major streets of the city.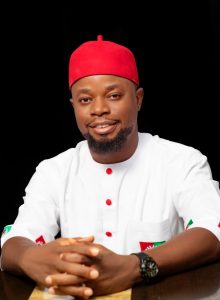 It was a scene to behold as mammoth crowds of youths, adolescents, and old men and women closed their shops and major markets in the city and started gathering in solidarity at various take-off points as early as 7am preparatory to the commencement of the march which was billed to commence two hours later. Adorning various T-shirts, caps and other insignia bearing the portraits of Peter Obi and Chinedu Onyeizu, the people marched through the city, chanting solidarity songs.
With Engr Chinedu Onyeizu leading in the front row and surrounded by other Labour Party candidates, the crowds marched through the popular Aba-Owerri, Faulks, Ikot-Ekpene, and Asa roads and converged on the popular Bata Junction on Factory Road where they joyously spent hours singing and dancing.
Reacting to the event, the Abia South senatorial candidate of the Labour Party, Engr Chinedu Onyeizu who is the highest office seeker in the zone, said that the mammoth crowds were an eloquent testimony to what would happen in the 2023 general election. He expressed delight that the youths had taken their destiny in their own hands. He urged all the 'Obidients' to remain resolute in their resolve to ensure the emergence of a new Nigeria that holds hope for all. He took time to remind the gathering that Peter Obi remained the best candidate to take over the leadership of Nigeria at this trying time.
On his aspiration to represent the zone in the Senate, he said he was sure of victory and prepared to give the zone the quality representation that had eluded them in 24 years, as the people of the senatorial zone had resolved to vote for a candidate with competence, credibility, youthfulness and track record of professional accomplishments, which are the qualities he is known for.