The PDP Governorship candidate for the 2023 general election in Abia State Prof. Eleazar Uche Ikonne, has asked Nigerians to keep hope alive and pray for a better Nigeria, in his Independence Day message, the governorship hopeful said though we are celebrating our 62nd year as an independent nation, it should be a period of deep thinking and introspection.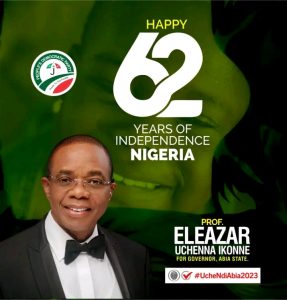 He regretted that after a hard-fought battle by our forebears to achieve independence from our colonial masters that this day, ordinarily should have been a day of pride and joy for every citizen of the country but the realities of the day present otherwise.
The renowned Professor of Optometry, encouraged Nigerians to see this period as a time when we should sit back and ask ourselves, how we have fared as a nation? from once a very prosperous nation, richly blessed with abundant natural resources and a rich and productive economy, we are today ranked as one of the poorest nations in the world faced with a lot of self-inflicted challenges.
He advised Nigerians to owe it to themselves as a responsibility to once again realize their pride as a nation and change the narrative by being brave enough to hold leadership to account.
The former Vice Chancellor of Abia State University charged Abians to use this critical period of our lives to take the decision that will decide our collective fate as a people and make it a duty to interrogate those we intend to elect into offices, put their character, competence and preparedness to the test, and elect people with experience, proven honesty, and integrity,
The Frontline governorship hopeful advised the electors to use their PVCs and recruit leaders that can think along the lines of global best practices and apply them locally to achieve strategic development, elect leaders with ideas that will give us the opportunity to participate in the governance processes and accelerate infrastructural development, he advised the youths to shun violence and lawlessness and reject those whose only priority is self-enrichment at the expense of the rest of us.
Prof Ikonne expressed a strong belief that when elected, he will with the support of every Abian build a more prosperous and enduring Abia State where every one of us will prosper, he also used the opportunity to wish Abians a happy Independence Day celebration.
Uche Aguoru
Director E-Media/Publicity
Uche Ndi Abia Campaign Organization