An unidentified lady has been spotted roaming the streets of Umuahia, Abia State capital after she alighted from Tricycle (Keke Napep).
The incident occurred around Uchenna Bus stop along Aba Road, Umuahia, was said to have happened on Thursday, 2nd October, 2023.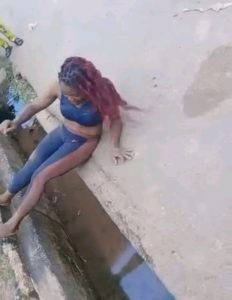 In a video that went viral, the lady, assumed to be in her 30's, was seen roaming the streets, after she alighted from the tricycle
According to eyewitnesses, the lady started losing her sanity immediately she was dropped off from Tricycle at Uchenna bus stop.
When interrogated, the lady who wasn't giving a straight answer, jumped into a a filled up drainage and started swimming.