The attention of the global movement and family of the Indigenous People of Biafra (IPOB) ably led by the great and indefatigable leader, Mazi Nnamdi KANU has been drawn to the secret plans by the Traditional Ruler of Nnewi, Igwe Orizu's heir and some in his cabinet to sell the "Ikemba Nnewi" title that was given to our eternal leader, late Chukwuemeka Odumegwu Ojukwu to some politician in his kingdom.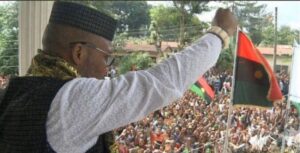 We are reliably informed that the moneybag politician plans to use the "Ikemba Nnewi" title in an attempt to secure some legitimacy for his upcoming gubernatorial bid. Our eternal leader's title should be left out of his political plans. In life, Ojukwu made his stance clear. Ojukwu represents the people and not the personal ambitions of any individual.
IPOB is by way of this message, also alerting the good Igwe Orizu of the secret plans that are being hatched behind his back.
IPOB is warning those involved to desist from that plan, because the "Ikemba Nnewi" title exclusively belongs to our eternal leader, Dim Odumegwu Ojukwu whether dead or alive, because of his enormous contributions to Biafra Nation.
The title should strictly belong to him. Nobody has the right to tamper with such an important title to such an important person to Alaigbo and our history.  Anybody who intends to buy that title is setting himself up against IPOB and Ndigbo in general. Nobody in Nnewi or any part of Alaigbo is allowed to be conferred with the title of "Ikemba Nnewi." That title belongs to the Late Chukwuemeka Odumegwu Ojukwu and to him alone.
HRM Igwe Orizu of Nnewi should stop those planning the sale of the "Ikemba Nnewi" title to anyone or those responsible will have IPOB to contend with. We shall never be kind to the sellers or buyer of the chieftaincy title belonging to our eternal leader, Chukwuemeka Odumegwu Ojukwu.
Igwe Nnewi and his cabinet should look for other titles to confer to the moneybag carrying politician but must not tamper with the "Ikemba Nnewi" title.
Ndigbo Traditional Rulers should learn to respect heroes who contribute immensely to the welfare and well-being of Ndigbo, not moneybags. Hitherto Igbo Traditional Rulers honored humanitarians and heroes with Chieftaincy title but not anymore. Many Traditional Rulers have become slaves to money. That's why corrupt politicians are tossing them up and down like they are their stooges.
Our hero, the late Chukwuemeka Odumegwu Ojukwu, did what no Igbo man living or dead has done. We warn anyone or any group that dares to resurrect the anger of the late Chief Odumegwu Ojukwu inside his grave to be ready for the consequences. IPOB is ready to confront anybody, cabinet member or otherwise and any moneybag carrying politician who tampers with the "Ikemba Nnewi" title, which belongs to our eternal leader.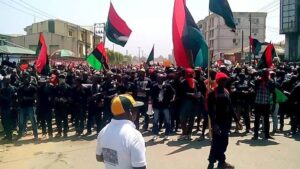 The "Ikemba Nnewi" title is for Chief Chukwuemeka Odumegwu Ojukwu, and no other person in Nnewi or in all of Alaigbo should have it. Other titles are free to be sold and can be conferred to anyone, but the "Ikemba Nnewi" title is exclusive to our eternal leader, the late Chukwuemeka Odumegwu Ojukwu.
IPOB volunteers and ESN won't spare anyone who is selling or buying our eternal leader's title.
IPOB respects HRM Igwe Orizu as a custodian of sacred Nnewi tradition and for his uprightness so far, but for him to allow the sale of the title of "Ikemba Nnewi" to any moneybag carrying politician is the red line.
HRM Igwe Orizu of Nnewi and his cabinet have so many Chieftaincy titles. Why is the anyone planning to sell the title that belongs to Dim Odumegwu Ojukwu? Do they just want to insult Ojukwu, his memory, his legacy, his family, or do they want to provoke IPOB? For this evil agenda, IPOB will begin to monitor Igwe Orizu and his cabinet closely going forward.
The stakeholders and elders of Nnewi should call Igwe Orizu's son and his co-conspirators to order. Otherwise, they will see us in an uncommonly dangerous form if they don't retrace their steps towards this great betrayal of our eternal leader, Dim Chukwuemeka Odumegwu Ojukwu and all of us. We are calling governor of Anambra State Governor Professor Charles Chukwuma Soludo to look into this matter and stop it because IPOB won't allow such a person to flourish with the title of IKEMBA Nnewi.
We won't say this again, and we are instructing IPOB Intelligence, IPOB volunteers, and ESN Operatives to monitor the development and report back to IPOB leadership for necessary action.
COMRADE EMMA POWERFUL, MEDIA, AND PUBLICITY SECRETARY FOR IPOB.