Whenever I'm going or coming back from Aba main town from Ogbor hill area where I reside, I always look at a billboard beside Sir Alex Onyeador close which leads to Nigerian Breweries Plc and Peculiar People International Worship Centre owned by Bishop Goddy Okafor.
I have formed the habit of looking at the beautifully designed billboard because of the strong and powerful message it carries.
The message is not for every Nigerian but for Ndi-Igbo, the people occupying the South-east zone or region of Nigeria who have once again become an endangered specie in Nigeria- a house fraudulently built by Lord Luggard and his concubine.
The target audience are businessmen and women as well as industrialists.
On the billboard is the bold picture of the former federal lawmaker representing Okigwe senatorial district in the National Assembly, Senator Nathan Achonu.
Senator Achonu who is popularly known as "Agu otu aka" is never tired of starring at motorists and pedestrians that ply the Ikot-ekpene road daily.
He offered a piece of advice to Igbo businessmen and industrialists to invest at home which is in accordance with the Aku rue ulo philosophy.
He urged them to invest in three sectors of the country's economy; Education, agriculture and manufacturing.
"Aku rue ulo amara onye akpara ya" simply means when you invest in your area, your kinsmen will feel the positive impact of your investment and more importantly, know your true worth.
Though the Aku rue ulo philosophy is spreading like a wild fire in the harmattan season, keen watchers of events and chroniclers of history will agree that this message has become important in view of the unfortunate developments taking place across the country.
It is a known fact that when the country attained nationhood in 1960, there was distrust and suspicion among the defunct regions that constituted the Nigerian federation as at that time.
But it has assumed a very dangerous dimension that Nigerians from different ethnic groups residing in other parts of the country are living in fear and are not sure of what will happen the next minute or day.
There is palpable fear and anger in the land. People's investments are no longer considered safe in areas they have operated or lived for decades which is their second home.
These Nigerians only visit their country homes during festive periods or to bury their dead ones and once such events are over, they return to their base.
It can be said that Igbos are the genuine believers in the Nigerian project and they have demonstrated this over many decades by investing in any part of the country irrespective of their horrible experiences during the Nigeria/Biafra war that lasted 30 months.
And that is the reason for the popular maxim; "any part of Nigeria where you don't see an Igbo man, you should run because that place is inhabitable".
The Igbos don't just invest, they also contribute to the development of their host communities.
Unfortunately, most Nigerians through their body language, have made it clear that Igbos are unwelcome, despite their invaluable contributions to nation building.
That explains why every protest or uprising in any part of the country ends in the Igbo man's shop even when he is not a motor spare parts dealer.
It will be difficult for the people of the South-east region to forget the unfortunate incident. It's like expecting the Jews to forget the Holocaust.
The scars are everywhere fifty years after. My prayer which I believe is the prayer of most Nigerians is that a second affliction should not arise; Ozoemela.
It's estimated that more than 3 million Igbos comprising men, women, children lost their lives. These people gave their today for our tomorrow.
The people also lost their property that were outside the region through the abandoned property policy.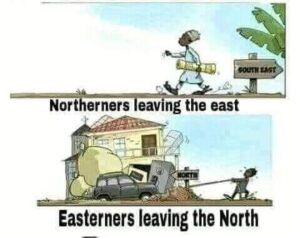 And this raises an important question; is the Igbo man's investment or property safe outside his region considering the events of 1967-1970?
The question is not a difficult one in view of the fact that business men and industrialists from other parts of the country don't consider it necessary to invest in the South-east.
The essence of this write-up is not to discourage any Igbo man from investing in other parts of Nigeria. However, there are several factors a shrewd investor takes into account before citing an industry and one of them is the safety of the investment.
Investment is like a coward. It's afraid of high crime rate and political instability. Investing in a volatile region is like being an in-law to the lizard because every time you will be called that your in-law (lizard) has fallen from the Iroko tree.
At present, the biggest threat facing the Aku rue ulo philosophy is insecurity. It will be difficult to persuade industrialists of South-east extraction to invest in the region considering the challenge of insecurity in the area. It's like calling a dog to come and eat and you are holding a big stick on one hand.
It's unfortunate that state governors in Nigeria are Chief Security Officers of their respective states only on paper. But the governors of the five South-eastern states should do everything possible to arrest the situation.
In fact, the governors should think outside the box and find out those who are working assiduously to turn the region into North-east region.
The governors should find out those who are unhappy with the relative peace that reigned in the south-east before now; if they are non Igbos or youths from the region.
If the perpetrators are our young men, i'm appealing that should desist from such acts. It's only an insane person that will join the enemy to burn down his father's house.
I will end this essay with this short story. Once upon a time, animals were facing security challenges just like humans.
One evening, the she-goat held a meeting with members of her household. She started asking them one after the other, how many times will evil befall them before they learn, to avoid reoccurrence.
Some answered two, three and four times depending on their level of understanding.
"I will not be a victim because I will learn from other people's mistake" replied the he-goat who was christened Nwa evula ako.
The mother was very happy and said to others that the he-goat (Nwa evula ako) is her true child and that she doesn't need to carry out a DNA test to prove it.
We should all remember these timeless statement by the late Premier of the defunct Eastern region, Dr. Michael Okpara.
"First fool no be fool, second fool na him be proper foolish".