Gov.Okezie is indisputably a great orator. His oratorical skills incontrivertible. His speeches are heavily loaded with wisdom. And such statements were witnessed recently thusly: "Ikonne is not about me, it is about the PDP and Abia. I have been the governor for seven years now, so nobody can deny the fact that I understand that Abia needs a unifier, a man with competence and pedigree. When I saw all the people that were striving for this job, some of them do not even have the patience to control 2000 people. They have not been local government chairmen, they have not superintended over an organisation with a staff strength of more than 100 people. Some of them have not worked for anybody before, so they don't even know what it means to be subordinate to someone and to know how to treat somebody else. In a nutshell, they don't have the requisite experience to tolerate the legislature and the judiciary. In terms of requisite experience, I am challenging you to tell me who else has got that experience in that regard. Some people also feel that where they are coming from gives them that sense of entitlement, but what Abia needs going forward is somebody that understands the diversity within the Abia polity".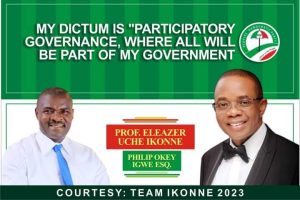 The assessment is apt.Like Richard Teerlink opines"As a leader…your principal job is to create an operating environment where others can do great things." And John Mellecker posits"Leadership is the creation of an environment in which others are able to self-actualize in the process of completing the job."
Prof Ikonne is a great unifier and he has assured that:"If elected the Governor of Abia State come 2023 by God's grace, I will permanently erase the psychological dichotomy between Old Aba Division and the Old Bende Zone."
He deserves the votes of Abians. #Team Ikonne 2023#
For publication of your news content, articles, videos or any other news worthy materials, please send to newsmirror14@gmail.com. For more enquiry, please call +234- 808-050-9464 or whatsapp. To place advert, please call +234- 808-050-9464.