Identical twins, Ikwo and Idak Effiom Effiong have allegedly lured and killed their elder brother Kokoette Effiom Effiong for their father's landed property in Ikot Nakanda, Akpabuyo Local Government Area of Cross River State.
The duo who are now in the police net alleged they were ignorant their brother had acquired a substantial sum of money from the sale of their father's land without sharing the proceeds.
According to AwardNobs, they asked the proceeds from the sale of another parcel of land be divided equally among all the siblings. However, their brother's refusal to do so led to the conspiracy and plot for his death.
A family source who pleaded anonymity said Kokoette died as a result of severe knife stabs to his head during the attack by the twins.
Kokoette's cousin, Otop Idebe narrated how the sisters enticed Kokoette from the house and attacked him, causing severe cuts on his head and arms, in a bush outside their home.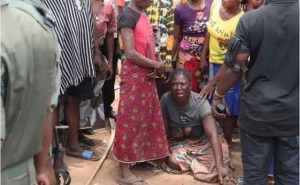 The suspects have been arrested by the police for further investigations
(Cross River Watch)