Hensard University, Toru-Orua has announced the appointment of a Professor of Strategy and Organisational Behaviour, Dr. Dileep Kumar M. as its pioneer Vice Chancellor. A highly sought-after scholar, he has taught – Strategic Management, International Business, Entrepreneurship, Project Management, Human Resource Management, Consumer Behavior, Behavioural Sciences, Organisational Behaviour, Research Methods, Research, and Business Consultancy Strategies for 21 years in Netherlands, Belgium, Georgia, South Africa, UAE, Bahrain, Sultanate of Oman, Ukraine, Turkey, Indonesia, Malaysia, Morocco, Singapore, Thailand, Brunei, Vietnam, Cambodia, India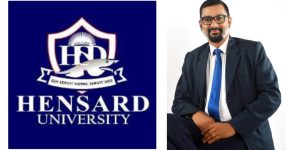 "Hensard University finds in Professor Kumar an internationally reputed scholar, teacher, researcher, and mentor, whose works align with Hensard's unique approaches to higher education," said a delighted Senator Henry Seriake Dickson, Chairman of Henry Seriake Foundation, which established the university. "The thrust of researches, his precocious publications, patents, global experience, and intellectual status, match the benchmarks that Hensard University has set to produce global leaders whose relevance would be drawn from their commitment to improving communities and the larger society."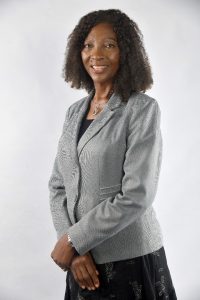 Professor Kumar joined Hensard University from Nile University of Nigeria, Abuja, where he was the Deputy Vice Chancellor and Dean, Faculty of Management Sciences. He has published 8 books and 3 monographs, more than 170 national and international high impact publications, including 50 plus ISI and Scopus; 4 patents, 17 copyrights.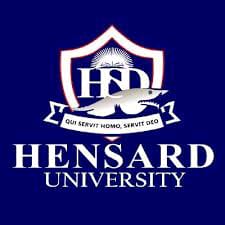 Professor Kumar graduated first class, BSc Science from Mahatma Gandhi University, Kerala, India. He holds a Doctorate in Business Administration, International University Georgia, a PhD in Business Management, University Kottayam, Kerala, an M Phil. in Labour Studies of Labour Studies Madurai Kamaraj University, Madurai, a Master's in Human Resources, and another in Management and General Management from Sree Sankaracharya University, Kerala, and P.G.D.B.A (MBA equivalent) of Business Management, Alagappa University, Karaikudi. His also has diplomas in Labour Laws, Hospital Administration, Human Resource Management, Computer Application, and Multidata Software Solution.
"I am glad to be in Hensard University as we start the unique transformation of people so that they can improve society. Hensard would be at the forefront of seeking out new frontiers of knowledge in the search for answers to challenges humanity faces. Our research centres, institutes, international linkages, dual certifications and the dedication of my colleagues are available as we commit to serving our students and communities the Hensard advantage," Professor Kumar said.
Professor Prekeyi Tawari-Fufeyin, the Deputy Vice Chancellor, is a results-oriented Environmental Management professional with a background in pollution studies and environmental toxicology, community development and partnerships. She was a Deputy Vice-Chancellor at the Federal University of Petroleum Resources, Effurun, Director of External Linkages and Director of several University Centres at different universities where she has supervised over 10 PhD students, over 25 M.Sc students and over 60 B.Sc students. She published over 60 articles in Academic Journals.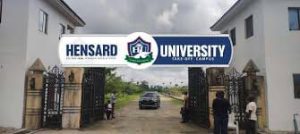 She was the Best Graduation Student in Hydrology at the University of Benin in 1983, and has two Master's in Aquatic Ecology, and in Health Planning & Management. Her PhD is in Environmental Toxicology and Pollution Studies, from University of Benin included one-year bench work at the University of Leeds, England. Professor Tawari-Fufeyin has taught at the University of Benin, and Western University, Oghara. She is Fellow, International Society of Comparative Education, Science and Technology (FISCEST).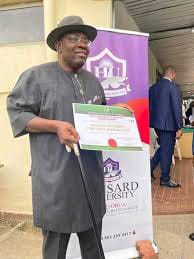 The Registrar, Mrs. Evelyn Umukoro, is a vastly experienced university administrator who clocked 21 years at the University of Benin, which she joined in 2002 as an Administrative Officer and held these positions – Assistant Registrar, Senior Assistant Registrar, Principal Assistant Registrar, and Deputy Registrar (Establishments), from 2021 until she joined Hensard University.
She graduated from the University of Benin in 1982 with a B.Ed (Social Sciences) with emphasise on Geography, and a M.Ed (Educational Management in 1994. I have served as a University Administrator in a higher educational institution since 2002. I have articulated programmes and agenda for Deans, Heads of Department and Directors to promote quality academic product delivery," Mr. Umukoro a Member, Nigeria Institute of Management (NIM) and Member, Association of Nigerian Universities Professional Administrators (ANUPA).
They have since resumed.