A Group of Eminent Stakeholders in the ruling All Progressives Congress (APC) have called on President-elect, Asiwaju Bola Ahmed Tinubu to pick a member of House of Representatives, Hon. James Abiodun Faleke as his Chief of Staff.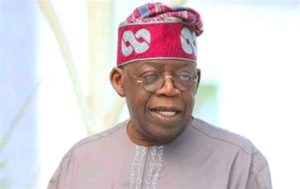 The party chieftains who held a meeting in Abuja on Saturday 7th April 2023 stated that the Kogi State born politician remains the best person to work with Tinubu amongst those angling for the job.
The President North Central Women for Tinubu, Mrs Bimbo Adedoyin Okpere in a statement she issued to newsmen reeled out several criteria that placed Faleke above others in the race for the plum job.
"We are calling on our great leader, the President elect, Asiwaju Bola Ahmed Tinubu to pick Hon. James Abiodun Faleke as his Chief of Staff when he assumes office. From all indications and from our findings, he remains the best for the job," the statement reads in part.
According to Hon Bimbo on behalf of the Stakeholders , Faleke needs no introduction to Tinubu and so it would ensure effective take off of the government if he is appointed.
The group of Stakeholders added that Faleke was one of the first of members of the APC to drag Tinubu into the presidential race through the formation of The Tinubu Support Group (TSG).
"Faleke was the pillar behind the formation of TSG and as the leader of the group, he helped galvanize the needed grassroots support for the presidential bid of Tinubu.
"It is also on record that Faleke subsequently emerged the Secretary of the Presidential Campaign Council where he functioned effectively as the coordinating official to ensure the victory of Asiwaju Bola Ahmed Tinubu in the 2023 general election," the group said.
They (the group) also stated that Faleke's appointment will instill confidence of the Christians in the country in the incoming administration.
"We are are also rooting for him because of his proven track records of public service performance in the last 24 years which is known to all and verifiable," the group wrote.
Bimbo stated that the appointment will also be a fitting reward for the loyalty which he Faleke has shown to Tinubu over years as a worthy protege.
Among those at the meeting , in fore front of the support for the nomination of Hon Faleke are Hon Mrs Bimbo Adedoyin Okpere, President North Central Women for Tinubu,
RT Hon Barr Rita Maduagwu former Speaker Anambra state house of Assembly, Alh. Moh'd Kasim Mabo, APC Stakeholder, Chief Mrs Toyin Badmus, Iyaoloja of Abuja,
Hon Chief Shola Adedoyin APC Stakeholder, Hon Longgap Komsol member Fed house of Rep , including, Engr. Yusuf, Coordinator TPAND, Hajia Saadatu Dogon Bauchi, President Arewa women for Tinubu, Obong Amb Joseph Akpan, Hon Calista Nwachukwu, Hon Nathaniel Dortie, to mention a few.