The popular Guinean singer, Grand P has professed his undying love for his Ivorian girlfriend, Eudoxie Yao.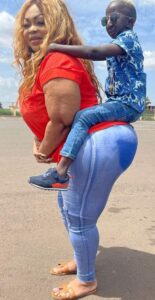 The singer took to his social media page on Friday night October 8, to post a photo with Eudoxie praying that God will Protect their love.
" I want you to be really happy with me every minute every second. I love you very much and I am very happy to have you in my life. You will remain my supernatural happiness my love" he wrote.
" You are the greatest miracle to me, the woman most expensive, most love person. I love you, I love you, listen to your heart and look at me, I won't do it for you but because of my dignity I swear I am loyal to you.
Nothing will change my love, may God protect our relationship. EUDOXIE YAO" pawa gang"