A former Abia State Commissioner for Industries, Mrs. Uwaoma Olewengwa has declared her intention to contest in the Aba North/South federal constituency bye-election on the platform of the Peoples Democratic Party (PDP). Mrs. Olewengwa made this known in an exclusive chat with News mirror. The seat became vacant as a result of the death of Ossy Prestige, a member who represented the Aba North/South federal constituency of Abia State in the House of Representatives.
The former Commissioner who expressed sadness over the demise of the federal lawmaker, said she was offering herself for service considering her awareness of the yearnings and aspirations of the hard working Aba people and also as a staunch member of the PDP.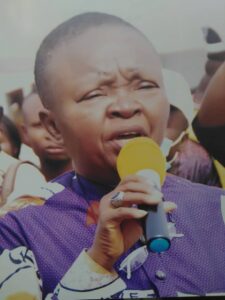 "I have been at the centre of politics in Abia State in PDP, because of that we know what our people need, we know what we can do to develop the state and individuals. Having being part of the system all these years, I'm sure that if given the ticket, i will win".
Mrs. Olewengwa called on the party to give all the aspirants an opportunity to test their popularity by conducting free, fair and transparent primary election. She cautioned against the imposition of a candidate which according to her, contributed to the loss suffered by the party in the federal constituency in the 2019 general election.
"It looks like another process of imposition is about to happen. I'm disturbed, not because the imposition will not favour me, but to avoid a repeat of what happened in the last election. Now that the All Progressives Congress (APC) is getting serious by taking advantage of the vacuum created by the death of Ossy Prestige, if PDP imposes a candidate, I'm not sure of what will happen. If APC wins the election, it will send a wrong signal that APC has taken over the state. And that is why we should be careful in selecting our candidate".
The former Commissioner expressed confidence that PDP will win the election as long as the party's flag bearer is a product of a transparent process. According to her, this is because of the numerous achievements of Governor Okezie Ikpeazu in Aba. She advised PDP to be cautious in selecting its candidate because experience has shown that it is difficult, if not impossible to rig election in Aba.
"It is impossible to rig election here. The leader of the party in the state and the party leadership should take up the responsibility and do what is good. My stand is that the part structure constitutionally saddled with the task of conducting primaries should be allowed to do its work".
The Independent National Electoral Commission (INEC) has fixed March 27, 2021, for the conduct of the bye-election in Aba North/South federal constituency of Abia State.