SOMEONE said strategy is everything. He is wrong for nothing is everything as President Bola Ahmed Tinubu, a hyped master strategist, is finding out in running Nigeria. If you are a good man, the paucity of like-minded folks would shock you. If you are a bad man, one of your earliest discovery would be that there were people by far worse than you, and unwilling to yield the competition. Tinubu had long declined to be counted among saints. It was a brave choice, not only in his circumstances, but in the seeming acceptance that the baggage he pulls along would have drown anyone, except Tinubu.
Sadly, he has pressed the panic buzzer too early in the day. How would he survive that? How could he react swiftly and beyond reasoned action on a slim matter like the headship of the Federal Roads Maintenance Agency, FERMA? What was wrong in appointing a young man to head FERMA? Is there a statutory age provision for the role?
Tinubu crumbled when voices rose against the 25-year old Ibrahim Imam. The first-class graduate of a foreign university also parades a Master's degree. His qualifications are relevant to civil engineering. The loudest dissents were over his age, though he had completed the National Youth Service Corps only last year. His rash management of the matter was devoid of any semblance of logic or attention to the yearnings of any section of Nigerians, except those Tinubu thinks can save him from future troubles. The decision to send the young Imam away confirmed a few things about Tinubu, and the All Progressives Congress, APC, which has been consistent in declining from a political party to a party, and more likely to end up as a town hall, different, speaking incoherent tunes.
How would Tinubu have forgotten the song and dance that APC made of its 'Not Too Young To Run' Act that mainly opened places for younger people places in government? We knew it was a panicky appeasement of younger people after their occupation of the Lekki Toll Gate in Lagos, three years ago, over police brutality. They stirred President Muhammadu Buhari to momentarily wakefulness – again for the moment.
What is wrong with a 25-year-old being the Chairman of FERMA? Was the 'Not Too Young To Run' law a slogan that expired with Buhari? Does Tinubu, burdened with the present, not have space for young people, the future?
Tinubu did not think of the long list waiting for appointment when he took young Imam. A rich President may not be interested in FERMA's 2022 budget of N82.6 billion. FERMA had N80 billion to dispense under capital projects and over-heads. A common name for both is contracts, better still patronage. Should a young man who lacks the experience to dispense patronage control money?
The main challenge lies elsewhere and makes FERMA's resources pale to nothing. Imam's father was the problem.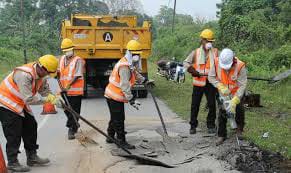 Kashim Ibrahim-Imam is the Chairman of the Board of Trustees of the Tertiary Education Trust Fund, TETFund. The organisation has more loads of money than the ordinariness of its name tends to suggest.
Imagine an organisation that has no annual budget. Funds flow into its coffers from 2 per cent tax on the profits of companies in Nigeria. Federal Inland Revenue Service, FIRS, collects the money on behalf of TETFund.
Please take a minute to digest that; I took a couple of minutes to do so. You can call TETFund a gold mine, an oil well without spillage and host community issues. Ibrahim-Imam leads decisions at TETFund. There are thousands of contracts spread over 43 federal and state 48 universities; 40 federal and 49 state polytechnics; 27 federal and 54 state colleges of education.
TETFund pays for different interventions – facilities, equipment, books, publications, lecture halls, scholarships for lecturers, researches – in public universities, polytechnics, and colleges of education – to improve the quality of education. There are 261 public institutions that qualify for TETFund's interventions.
A simple argument that saw the younger Imam jobless, only days after his nomination to the Senate, was that his father's compensation was more than enough for a couple of families in one electoral tenure.
Those who knew TETFund's worthy led the protest that panicked the President in another round of presidential foible. While Buhari excelled in sprinkling his appointments with names of the dead, Tinubu's excellence has been in appointing people without diligence over their credentials, and the high octane politics like Imam's raised.
Mired in distant pasts that have planted themselves unyieldingly in the present, Tinubu's acclaimed bravery has deserted him. His followers consider him strategic. What they tend to ignore is that Tinubu as president is different. Every evidence, for or against him, point to a man who is better left to bear his numerous burdens alone. He is the one who knows how many shoes he wears. He cannot count their pinches. Distant watchers come to sudden conclusions about Tinubu as he navigates life. It is obvious that we do not know Tinubu in enough measures, and convincing circumstances, to reach conclusions about him.
Is it a surprise that anyone who tries to defend Tinubu turns out a liar? They have all taken risks about a man they thought they knew. They find out in the journey with Tinubu that they do not know their leader. Why then bother about the direction?
Tinubu has become a shared burden. We can mock him, we make jokes of the President but the real joke – and it is on all of us – is how he got here.
A Nigerian president that could not use the Imam appointment to firm up his care for the youth (and it did not have to be Imam), or is busy flicking through wads of pages on Chicago, and strategies for stopping FBI from generating more questions about him, deserves more than self-pity. We do not know Tinubu enough to determine what quantum of pity to deploy to his causes.
*Finally…..*
CANDOUR can be another name for Godswill Akpabio, our uncommon Senate President, who has admitted he was a bad example in conversations about corruption. He is right. As a Senate President managing an allegation of stealing N108.1 billion, the worse thing to permit a future Chairman of the Economic and Financial Crimes Commission, EFCC, was the imprudence of using you as an example. Ola Olukoyede had said, "If we are investigating the Senate President for example…" Akpabio retorted, "I'm very glad that the nominee wants to use the Senate President as an example. But Mr. Nominee, leave the Senate President for now, look at this direction (pointing at the seats of opposition lawmakers)".
VICE Chancellor of the University of Medical Sciences, Ondo, Prof. Adesegun Fatusi: "I believe firmly that anyone who has gone to government school under government sponsorship must be bonded to serve the country for five years before he/she goes and I have absolutely no apology for that". He should also advise government to create more opportunities, more scholarships for medical studies in Nigeria. Ganiyu Abiodun Johnson has sponsored a bill to prevent Nigerian-trained medical or dental practitioners from being granted full licences until they have worked for a minimum of five years in Nigeria. The bill has passed second reading in the House of Representatives.
Isiguzo is a major commentator on minor issues