Michael Oni of Enyimba FM, Aba, asked why the Governor is starting with Ossah Road in Umuahia instead of Port Harcourt Road Aba.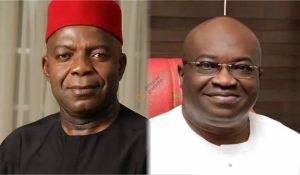 Fun Fact: Ossah road which starts at Okpara Square and ends at Abia Tower at the express is currently a 4-lane road, with all segments of the road smooth with relatively low traffic. Otti is only proposing to add 2 lanes to the existing 4. The contractor, Cranberg, is a local company whose owner is a nice young man from Ebonyi State residing in Port Harcourt and he does not have any known economic ties to Abia. (I will reveal more about Cranberg later)
Ossah is different from Onuimo to Abia Tower which is a longer road, requires urgent dualisation and have relatively lower cost in compensation to property owners.
So why did the Governor choose Ossah road instead of Onuimo to Tower? What of other key roads in Unuahia, such as Amazukwu to Ubani market and of course Port Harcourt road in Aba, where Otti illegally took Julius Berger to long before his inauguration as Governor and promised to start work there once inaugurated?
His administration's spokesmen said it is about "aesthetics" as against economic value. But Otti said it is about "ambience". Incredible sophistry!
Fact Checks
"We commissioned 3 roads in Aba"-Otti
I. Ikpeazu reconstructed Emelogu road in Aba and Otti merely painted the road, installed street lights and then patched a few portions.
II. Cemetary road in Aba is more than 3km but Otti went to the 200 meters that had already established drains, completed it and went to twitter to say he has reconstructed Cemetary-Market Road, Aba. By the way, that's the same road you watched the traders bemoaning the effect of flooding on their business areas, occasioned by the poor job less than one week after Otti "commissioned" the 200 meters.
III. Shallom road is about 700m and literally leads to no economic node in Aba or Abia. You will most likely not use that road if you visit Aba for business or pleasure. In fact, more than 99.95% of Aba residents do not know Shallom road.
"Go and verify"
IV. The old Express road mentioned by Otti was about 70% done by Ikpeazu with drains already established. Ikpeazu also completed proximal Samek road, all the way through MCC road to Aba-Owerri road.
Government is a continuum and it is good Otti is working on Old Express road which obviously has good economic value. I score that decision high.
The question is, why does he accept the principle of continuity in government when it comes to low hanging road projects he can steal from his predecessors to get twitter applause, but does not see same principle in other areas of leadership?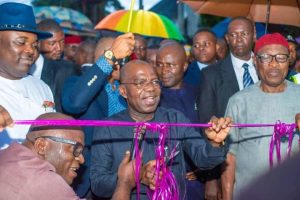 "Bitterness is a major sign of absence of emotional Intelligence in leaders"-JOK
V. Green Avenue is less than 400m and again, more than 99.96% of Aba residents do not know where it is located and there are no economic ties to the road. Why is a government in a hurry to develop Abia working on that road before others?
VI. Umuimo road is about 700 meters in length with drains already established on both sides with asphal overlay. At best, portions were patched by Otti and now he wants to commission "patch patch work" as usual.
VII. "There are several other roads we are doing including Azikiwe …."-Otti
Mr Governor, I put it to you that all you are doing along Azikiwe road is desilting of gutters. Are you also going to commission desilting of gutters?
Every resident of Aba is aware that Ikpeazu reconstructed and commissioned that road. What exactly is Mr Otti doing there, jf any?
VIII. Mr Otti also mentioned that People's Avenue Aba has been awarded and I applaud that decision even though the total distance is about 1.4km
Why did I mention 1.4km?
During the 2019 governorship debate between Otti and Ikpeazu at Abia Hotels Umuahia, Otti loudly complained that the roads being done by the latter were not long enough. (Verify from Michael Oni and others who witnessed the debate.
What has changed?
Today, same Otti is celebrating 200m, 600m and 1.4km roads as "massive achievements" of his government. Isn't that an uwa Ntoor situation?
IX. "Resources are scarce"-Otti
Note that in 100 days, Ikpeazu commissioned Ukaegbu road in Aba, Ehere road Aba, Umuola road Aba, Kamalu road Aba, Road 2 World Bank Umuahia, but outrightly refused to commision Umule road Aba because he didn't like the quality of work done. And he never celebrated the desilting of Waterside River, Aba, re-asphalting of 18 roads of more than 28km combined, desilting of major drains in Aba and Umuahia. He saw those as routine maintenance works only.
Let's not go into how much Ikpeazu received in 100 days versus how much Otti received in 100 days. There will be time for that in the coming days. May be, one day we will also compare how much Ikpeazu paid as salary in terms of number of months, arrears cleared and workers sacked in 100 days.
There will be time for that review soon, including details of re-payment of N2b loan owed by Abiapoly during IKPEAZU'S 100 days and the role played by one Abia banker in the availment of that evil loan.
Suffice it to quote Alex Otti as recorded during the 2019 governorship debate:
"Let me start by disputing the fact that resources available to Abia state are lean, it is a lie from the pit of hell. The money we receive in Abia is more than the money received by Imo, Ebonyi and Anambra"
-Alex Otti
X. "Don't worry about Port Harcourt Road…."-Otti
Like seriously, Mr Governor!!!
The same Port Harcourt Road that you invaded before your inauguration and officials of DSS had to call and warn you from Abuja before you stopped at Osisioma Flyover, but still dispatched your hirelings with "Julius Berger" or whoever those yellow men were, to go and tell residents that you are starting work there immediately you are inaugurated?
Mazi, he asked about Port Harcourt Road, Aba that your people celebrated as evidence of hostile take over of Government and you said he should leave that for now?
Chineke para tule !!!
Onye gba oso….democracy must work through checks and balances. Where a Governor has captured and enslaved the legislative branch, intimidated elites into silence, a dictatorship becomes inevitable. We won't have that in Abia.
-Nwandugbom JOK is a citizen of Abia State
Video