The Election Petition Tribunal sitting at Panel 3, on Tuesday, the 3rd of October, 2023 dismissed the Petition filed by Hon. Ujoumunna Nnabugwu Chimezie and APC against Rt. Hon. Emmanuel Ihuoma Emeruwa, Labour Party and INEC. Rt. Hon. Emmanuel Ihuoma Emeruwa is the member, representing Aba South State Constituency in Abia state House of Assembly.
In a unanimous lead judgment delivered by Hon. Justice Momsisuri Odo Bemare (J), His Lordships upheld the Preliminary Objection filed by Sir P.C Uzoaga, counsel for Rt. Hon. Emmanuel Ihuoma Emeruwa who was sued as the 1st Respondent in the Petition. The 1st Respondent's Counsel's motion to strike out the grounds of the Petition succeeded in part as one out of two grounds of the Petition was struck out.
The said counsel's motion to strike out the Petitioners' Reply to the Respondents Reply succeeded and the Petitioners' said Reply was struck out for being filed out of time. Again, Sir P.C Uzoaga, counsel for the 1st Respondent had filed another Preliminary Objection to dismiss the Petition on the grounds among other things that the Petitioners failed to activate the Pre-Hearing Proceedings by filing the Pre-Hearing Notice out of time outside the contemplation of Paragraph 18 (1)of the First Schedule to the Electoral Act 2022 thereby abandoning the petition. Learned Counsel's argument in this later Preliminary Objection was upheld by the Tribunal.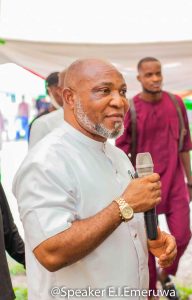 Since the Petition was heard on the merit, the Tribunal went ahead to determine the issues raised in the Substantive matter. The Tribunal held that the Petitioners could lead any credible evidence to establish the three (3) grounds upon which their petition was based. The tribunal having struck out their ground 2 of the Petition in the course of determining the Preliminary Objection of the 1st Respondent's counsel, further held that the Petitioners failed to prove the remaining two grounds and wondered what was the essence of bringing this kind of Petition where they could not even tender one single unit result or any other materials to prove their allegations against the Respondents. On these scores, despite having dismissed the Petition on the basis of the ruling on the Preliminary Objection, the petition equally failed in the main and was accordingly dismissed with a cost of N300, 000. 00 against the Petitioners in favour of the Respondents.
Meanwhile, the 2nd and 3rd Respondents' similar motions as the ones filed by the 1st Respondent's Counsel also succeeded.
The Preliminary Objections of the respondents succeeded in the dismissal of the Petition. Yet the entire Petition was still dismissed on the merits because the petitioners could not prove any of the Grounds of the petition, and the Reliefs sought by the petitioners, as they were grossly incompetent and ineffectual.
Rt. Hon. Emmanuel Emeruwa, is the current Speaker of Abia State House of Assembly.