In what political gladiators can say is a derail from the tenets of the New Abia which slogan is to do away with everybody with skeleton in his cupboard. The high expectation of the supporters of Dr Alex Otti is never for him to go back to Egypt.
Mr. Chimereze Okigbo who was appointed recently as the Special Adviser on Internally Generated Revenue to the Governor was sacked by the Anambra State Government due inefficiency, lack of transparency and accountability.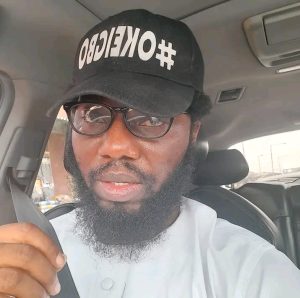 According to the documents intercepted by our intelligent and investigative journalists Mr Okigbo was sacked because of lack of transparency, accountability and abuse of office. The documents attached to this publication shows that Mr Okigbo was busted in the misappropriation and mismanagement of the internally generated revenue with the use of PoS which resulted to a drastic reduction of the internally generated revenue gotten from the agents of Point of Sale in Anambra. There was several attempts to get him account for the revenue loss without success.
Charged by the ugly development, the government of Anambra State sacked him.
While we are concerned about this particular appointment of the sacked Chimereze Okigbo is because as citizens of Abia State, Abians have suffered so much because of appointment based on brotherhood and partizanship.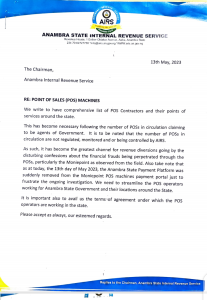 Abians have embraced the present regime of Dr Chioma Alex Otti and will do every thing to encourage him to succeed.
Our state cannot continue to be dumping ground for incompetent and corrupt officials.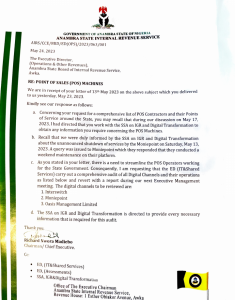 Governor Alex Otti should as matter of urgency revisit the appointment of Mr Okigbo not to tarnish his reputation which takes him many decades to build