A concerned Abia citizen and social media influencer, Ikechukwu Iroha has alleged that the incumbent Abia state Governor, Dr. Alex Otti awarded contract to a construction company that is linked to his cronies
In a Facebook post on his wall, Mr. Iroha raised some posers awaiting answers :-
Read him:
After I published details of the ownership structure of one of the construction companies allegedly working for the current government of Abia State, Solberg Nigeria Limited, and demanded clarification from the Governor and others because of a possible conflict of interest, the following happened: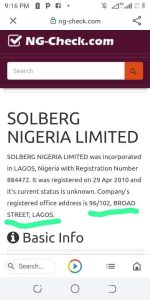 A. I received documented threat of legal asphyxiation by one of those mentioned in my publication if I don't take down the post.
B. Impeccable sources confirmed to me that there are ongoing attempts being made to stop the company from going ahead with the work already given to them but instead to seek a proxy construction company to execute the work.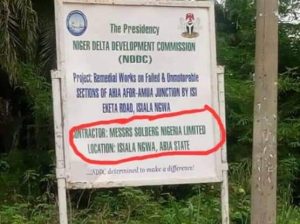 As a citizen of Abia State I only want things done the right way and I am not after any individual. I am also not afraid of meeting anyone in court to share more details and demand further answers.
My latest finding on Solberg Nigeria Limited should further interest Abians and Nigerians in general.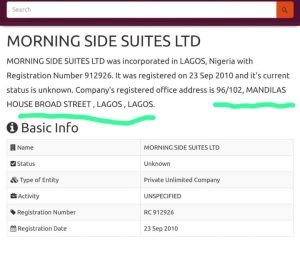 1. This company, Solberg, handled the NDDC road projects reportedly "attracted" by Dr Alex Otti at Isuikwuato and Isiala Ngwa South LGAs. (See picture)
2. Solberg shares same registered address with a hotel allegedly owned by Dr Alex Otti. What an interesting coincidence. (See evidence)
3. The MD of Solberg can be seen in this picture sitting behind Governor Alex Otti during the official inauguration of Abia Commissioners on Friday. (See picture)
4. Newly appointed Commisoner for Works, Engr Don Otumchere Otti, and his Finance Counterpart, Mike Akpara, are both from Aro Okigbo where Governor Otti hails from and used to have his residential mansion. Reports have it that the works commissioner, Engr Don Otumchere Otti is actually from same compound with Governor Otti.
(See picture of PDP membership card registered to Arochukwu ward)
For those who do not want us to make these facts public because they think it is too early, let them go and check when Alex Otti and his media team started criticizing the Ikpeazu administration in 2015 without anyone ever threatening them with lawsuit or hiring social media thugs to beat them up online. What then are they hiding that they don't want Abians to see this early or are we going to wait for the monster to fully develop into an uncontrollable demon before we start asking questions?
Who owns Solberg?
Ikechukwu Iroha