Some unknown gunmen have killed a pastor in charge of the second Evangelical Church Winning All, Damakasuwa in the Kauru Local Government Area of Kaduna State, Amako Maraya.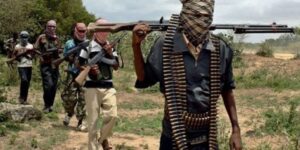 The wife of the clergy was also abducted by the gunmen, reports Saturday PUNCH.
A resident, who is also an elder in the church, Mr. Ishaku Chinge, who confirmed the incident to our correspondent today , said the gunmen invaded the community around 11 p.m. yesterday.
He recalled that about three months ago, the gunmen had attempted to kidnap the son of the clergy but were repelled with the help of the community, even though he (the son) was injured.
"Yesterday again, they stormed his house, gunned him down and kidnapped his wife.
"The gunmen had earlier called in the morning, demanding N3 million ransom from the family. They have not called again," Chinge stated.
According to him, there has been tension in the community since the incident occurred.
He added, "We are calling on security agencies and the government to help rescue the widow who is traumatised at the moment."
The acting Police Public Relations Officer, Mansir Hassan, did not respond to the text message sent to him as of the time of filing this report.