Grateful heart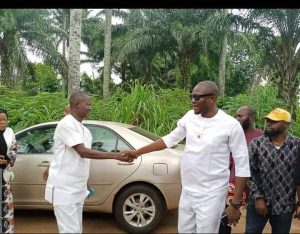 On behalf of my family , I wish to thank the House Member representing lsialangwa South State Constituency in Abia state House of Assembly Hon Rowland Chinwendu Dennis (Ceasar) who out of his wisdom converged all my team members of ugwumba alongside an elder statesman Nze B O Ahuruonye and one of my maternal uncles Chief John Nwosu (Akaoma) to my umuohia country home to console my family on the demise of my father Chief Michael Uwaoma Ururuaja.
His soft words weakened my innermost mind which resulted to my shading tears for the first time since my father died .
In as much as I am not moved by words of eulogy, I was really trapped yesterday by his words .
My greatest joy was that there was ???? compliance as it affects attendance of the members of Ugwumba to my house for this condolence.
It made me realize the saying that goes thus , "he that watereth shall himself be watered"
It is a promise that this my immediate political family (Ugwumba) will be actively involved in this burial
In a very special way , my thank goes to our Principal, Ceasar the lord , my deputy Barrister Chinonso Nwokocha, the Secretariat anchoring on Ugochukwu Njoku Esq, the youth wing through *Ugonna Nwaobia the women wing anchoring on Mrs Oluchi Ubani and Mrs Uchechi Daniel the media department through Elder Chinonso Nwaeze, the security through Comrade Chibuike Ohuoba, the survelance and crack squad through Uzuka Emmanuel (Napoleon), the protocol wing through Chinanu Ojukwu , our finance department through Chief Chigozie John (oil), the works department through *Chief Esinwoko Mark* , the Religious wing through Evangelist Solomon Uchenna, the welfare department through Nwazuo Darlington , The BOT wing through *lMr Daniel Nwaigwe and all who joined in this all important condolence visit not forgetting the Personal Assistant on media to the Honourable Member. Miss Chidera Iheanacho (Taatam)
Thanks
Engr Chima Elijah Uwaoma MNSE