Rescuers remove a person on a stretcher from under the rubble of a house destroyed during Israeli strikes in Rafah, southern Gaza, on Monday.
Videos and images on social media show mosques and residential buildings flattened in Gaza, as the death toll in the territory rose to at least 436 people on Monday.
The Israel Defense Forces (IDF) said Monday it attacked 500 Hamas and Palestinian Islamic Jihad targets overnight.
The Palestinian interior ministry said most of the targets were "towers, residential buildings, civil and service facilities, and many mosques."
Mosques and homes hit: The IDF claimed Monday that two Hamas operational assets were struck inside a mosque in Gaza. It claimed to have struck another seven Hamas command centers, an Islamic Jihad command center, and numerous multi-story buildings including the home of Hamas secretary Ruhi Mashtaa.
Hamas denied that the buildings targeted were used by the militant group, saying residential homes were targeted without warning.
Thousands displaced: The United Nations Relief and Works Agency (UNRWA) said nearly 74,000 people in Gaza were displaced and taking shelter in their schools. Those numbers are "likely to increase as heavy shelling and airstrikes continue including on civilian areas," it said.
The agency said one UNRWA school sheltering people was directly hit.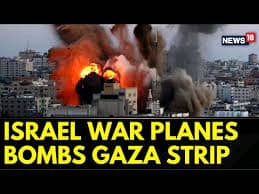 Summary :
* The Israeli military says the surprise co-ordinated assault launched by Hamas on Saturday feels like the September 2001 attack on the US
* "This is our 9/11 – they got us," says a spokesman, while another compares it to the 1941 Pearl Harbor attack
Israel says it has regained control of its communities near Gaza – but says some militants remain active
* More than 700 people have been killed in Israel since Hamas launched its attacks on Saturday morning, including 260 at a music festival.
*And almost 500 have died in Gaza, after Israel launched massive retaliatory air strike
*Israel regains control of communities near barrier – IDF*
Israeli Defense Forces spokesman Daniel Hagari says the military has regained control of all communities near the Gaza barrier – but isolated clashes are ongoing with active Palestinian gunmen.
Earlier, the military said fighting was taking place in "seven or eight" places inside Israeli territory.