The Enugu State High Court, Thursday, ruled that the proscription of the Indigenous People of Biafra, IPOB, by the Southeast Governors' Forum in 2017 amounted to administrative abuse, hence null and void.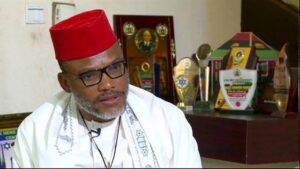 Mazi Nnamdi Kanu, the IPOB leader, had approached the court to seek the voidance of the prescription based on the fact that IPOB is a registered organisation, and composed of members who are exercising their right of association.
The suit was instituted by Kanu's special counsel, Barr Aloy Ejimakor.
Among the reliefs sought are the de-listment of IPOB as a terrorist organisation in line with the provisions of the African Charter and the Constitution of the Federal Republic of Nigeria.
Other reliefs sought by Kanu include a declaration that self-determination is a right, public apologies in three national dailies and N25 billion damages, as well as restraining the government from proceeding with criminal proceedings against him.
Justice A.O. Onovo, while delivering the judgement, agreed with the applicant that the African Charter binds on Nigerian courts, hence self-determination is not a crime.
On monetary damages, the court granted N8.billion in damages to Kanu. It however declined jurisdiction in stopping the criminal trial of Kanu on grounds that it is before the Supreme Court.
Ejimakor commended the court for being the last hope of the coming man. In his words, "We are grateful that justice has prevailed over this matter since 2017.
"The court has reaffirmed the hopes of the common man in the judiciary. You have saved thousands of lives."