Few days after President Ali Bongo of Gabon was declared the winner of the last Saturday's Presidential election, report has it that Military officers have announced take – over and cancellation of Presidential election results and dissolution of institutions after the incumbent President, Ali Bongo was declared winner with 64% of the votes cast.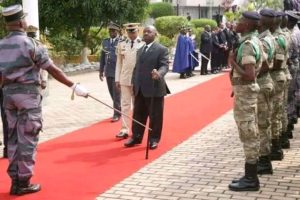 Reports of gunfire was reported in Gabon's capital city, Libreville as Senior Military officers appear on National Television to say they have taken over
During the last Saturday election, the Gabon's President Ali Bongo was seeking a third term in elections that could extend his family's 55-year political dynasty.
The central African nation's 800,000-plus eligible voters also elected local lawmakers, National Assembly members and the next President, but they are all dissolved now by the Military take – over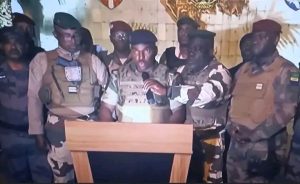 Incumbent Ali Bongo Ondimba, 64, who won his current term in office by a narrow margin, was challenged this time by Economics Professor and former Education Minister, Albert Ondo Ossa.
Ossa's surprise nomination came just a week before the vote and followed a closed-door meeting of heavyweights in the opposition coalition.
Bongo has served two seven-year terms of 14 years and seeks to extend his family's 55-year political dynasty with a third.
Bongo, then the Minister of defense, came to power in 2009 after the death of his father, Omar Bongo, who ruled the country for 41 years.
Ossa says his goal is to break Gabon out of the status quo. He says that if elected, he would first dissolve the National Assembly, redraw the electoral map and organize new legislative elections, to form a government committed to addressing economic inequality.
Every vote held in Gabon since the country's return to a multi-party system in 1990 has ended in violence. Clashes between government forces and protesters following the 2016 elections killed four people, according to official figures.
Opposition politician Jean Ping blamed election manipulation for his loss at the time — by less than 2% of the vote — and said the real death toll was much higher.
By leaving rising unemployment unaddressed, "the current regime is sowing the seeds of post-electoral violence," said Noël Bertrand Boudzanga, a literature Professor and member of a civil society organization aimed at electoral transparency in Gabon.
President Bongo's objective is "to keep power at all costs," Boudzanga said.
Nearly 40% of Gabon's youth, aged 15-24, were out of work in 2020, according to the World Bank, a marked increase since Bongo took office.
In Libreville, before the election, some residents were stockpiling supplies and securing their property. Others are leaving town.
….. developing story