Following the release of all the abducted victims of the Abuja-Kaduna train attack, over N6 billion may have been paid to the terrorists to set most of their captives free.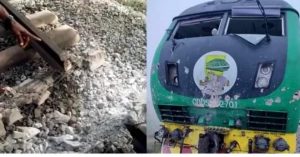 Terrorists attacked an Abuja-Kaduna passenger train on March 28, 2022, in which about 14 persons were killed and 63 officially declared abducted.
The attack, however, forced the Nigeria Railway Corporation, NRC, to temporarily suspend activities while President Muhammadu Buhari directed security agencies to rescue the victims.
23 remaining captives were, on Wednesday, released almost six months after they were kidnapped by Boko Haram terrorists.
The cheering news was conveyed by Usman Yusuf, Secretary, Chief of Defence Staff Action Committee, CDSAC.