The Peoples Democratic Party (PDP) on Saturday maintained that the All Progressives Congress (APC) has no legally valid candidates for the 2023 general elections because Governor Mai Mala Buni midwifed the process leading to the emergence of the National Working Committee (NWC) of the party in violation of section 183 of the Constitution.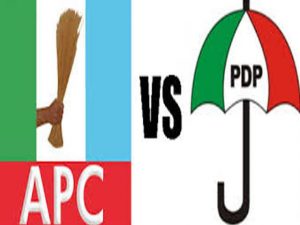 The party has, therefore, advised the ruling party presidential candidate, Bola Tinubu, to return home and face other issues.
Addressing a press conference in Abuja on Saturday, PDP National Publicity Secretary, Debo Ologunagba, stated: "The APC has become prostrate, handicapped and incapacitated to campaign as it has no legally valid candidate for the 2023 general elections.
"Recall that the PDP had on February 22, 2022, and March 8, 2022, cautioned that with its foisting of an illegal and unconstitutional leadership, the APC has become 'legally defunct, structurally crippled and no longer a legitimate and valid vehicle to field candidates for elections under our laws.'
"The PDP had cautioned all aspirants in the APC then not to waste their resources, time and energy in the APC as they will be on a journey to nowhere. Today, the chicken has finally come home to roost.
"As you are aware, the Federal High Court sitting in Abuja on Friday, September 30, 2022, nullified the candidature of Governor Gboyega Oyetola in the July 16 2022 Osun State Governorship election on the ground that his nomination was invalid, having been conducted and submitted by Gov. Mai Mala Buni of Yobe State, in violation of Section 183 of the Constitution of the Federal Republic of Nigeria 1999 (as amended).
"For emphasis, Section 183 Constitution of the Federal Republic of Nigeria 1999 (as amended) provides that a state governor 'shall not, during the period when he holds office, hold any other executive office or paid employment in any capacity whatsoever.'
"This judgment reaffirms the judgment of the Court of Appeal in the case of Jegede vs INEC that a violation of any provision of the Constitution of the Federal Republic of Nigeria 1999 (as amended) particularly as it relates to Section 183 portends grave consequences.
"The import of the September 30, 2022 judgment of the Federal High Court is that every decision made by Governor Mai Mala Buni as Chairman of the APC is null and void as you cannot place something on nothing and expect it to stand.
"Consequently, the Congresses as well as the National Convention which produced APC Excos including the Sen. Adamu Abdullahi-led NWC is void," PDP stated.