About 21,000 Abians have successfully registered for relaunched Government Enterprise Empowerment Programme (GEEP 2.0), one of the components of the Social Investment Programme aimed at supporting micro business owners.
Briefing newsmen in his office the State Focal Person Mr. Chinenye Nwaogu said the Programme is divided into three major sub components as follows;
1.  MARKET MONI:   6,358
2.  TRADER MONI:   6,280
3.  FARMER MONI:   8,084
Mr Nwaogu thanked the State Director of National Orientation Agency and her staff who provided both their offices and manpower to ensure seamless free of charge registration of such a massive number of beneficiaries from Abia State.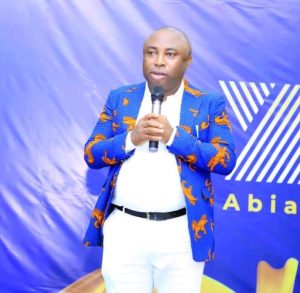 The Focal Person further stated that the next stage would be for the registered potential beneficiaries to be enrolled by the financial institution that would provide funding for them. He said that succesful beneficiaries would receive soft loans ranging from 50,000 to 300,000 Naira at a convenient rate and conditions.
Mr Nwaogu thanked President Buhari for sustaining these pro poor programmes that have directly impacted and improved the lives of the poor and vulnerable.
In the same vein Mr Chinenye Nwaogu thanked Governor Okezie Ikpeazu for providing the needed support to ensure that Abia State continues to top the chart in the administration of these programmes. He stated that under his watch as Focal Person more than 1 million Abians have benefitted directly or indirectly from the various components of the Social Investment Programmes. He continued by thanking his staff for abiding by the code of honesty, transparency and integrity in the implementation of these programmes.
Mr Chinenye Nwaogu assured those who were not able to register in this first phase, to prepare as another batch will be registered once the beneficiaries of this first batch are funded.
He reminded Abians that the registration will continue to be done at all the National Orientation Agency offices in the 17 Local Government Area Headquarters.
It could be recalled that during the implementation of GEEP 1.0, over 10,000 Abians into severally forms of micro businesses were supported through the programme.
In his bid to ensure upliftment and improved livelihood of Abians, Governor Okezie Ikpeazu has ensured the domestication and full implementation of the Social Investment Programmes and other programmes aimed at addressing the challenges faced by the most vulnerable poor and needy in Abia State.
Godwin Okeagu
Abia SIP Media Office.