A mother of three in Aba, Abia State, yesterday caused a stir when she physically assaulted her husband for daring to question her relationship with a pastor.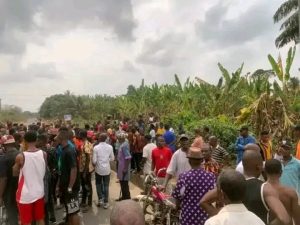 The woman whose identity remains unknown, resides on Ukonu Street, off the Ajah-Ngwa Road area of Aba South.
Eye witnesses revealed that her husband expressed his dissatisfaction with the fact that she provided the pastor with better quality and quantity of food than she did for their own family.
In response to her husband's observation, the woman, who is a member of the pastor's church, became infuriated and resorted to slapping, pushing, and restraining her husband on the ground.
It was only when neighbours intervened that he was able to escape her wrath.
She further threatened to leave their marital home, claiming that her husband and neighbours were unjustly monitoring her activities and falsely accusing her of engaging in inappropriate behaviour.
An elderly resident in the vicinity, who pleaded anonymity, told Daily Sun that rumors have been circulating about the pastor's alleged flirtatious behavior with young women, even in the presence of their spouses.