Chairman/Chief Executive Officer of the National Drug Law Enforcement Agency, NDLEA, Brig. Gen. Mohamed Buba Marwa (Retd) has said that the task to keep modern societies safe from the scourge of illicit drugs demands global commitment, even as he assured that Nigeria is doing everything possible to fulfil its own end of the bargain.
Marwa stated this weekend while addressing a gathering of academics, students, mental health professionals and Nigerians in diaspora at the Jayhawk Welcome Centre, University of Kansas, Lawrence, Kansas, US where he delivered a lecture on "War Against Substance Abuse and Illicit Drug Trafficking: The Nigerian Story" during the 2023 edition of the Marwa Africana Lecture Series established and organized annually since 2003 by the Department of African and African-American Studies of the University of Kansas.
While reliving the Nigerian experience in the fight against the global drug scourge, the NDLEA boss said "we have been able to keep huge cache of drugs from getting into our streets by seizing them at the border or before distribution courtesy of intelligence sharing with our counterparts in source countries or along the transnational routes."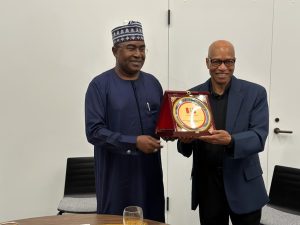 According to him, "For some 33 months now, Nigeria has run an unflagging anti-illicit drug campaign based on global best practices for drug law enforcement and guided by UNODC's Whole-of-Society approach to the drug conundrum.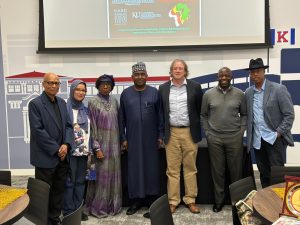 "While we have achieved remarkable mileage, the Nigerian anti-drug campaign is nonetheless a work in progress. Be that as it may, our achievements of the past 30 months, relative to the past 30 years, have bolstered our hope of greater accomplishments going forward. The support from international partners, governments of friendly countries, the government of the Federal Republic of Nigeria, and the Nigerian people has strengthened our conviction that the objective we pursue is not unrealistic. Now we have before us an open vista where the objective of a drug-free society is a possibility.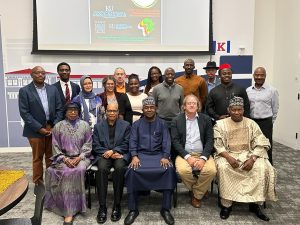 "The task of keeping modern society safe from the scourge of illicit drugs requires a global commitment, and in NDLEA and Nigeria, we are doing everything possible to fulfil our end of the bargain."
He said the choice of words for the campaign against illicit drugs in Nigeria "is a metaphor that is reflective of the need for drastic steps against a brewing illicit drug apocalypse." He added that "War on drugs" within the Nigerian context connotes the severity of the situation as an existentialist threat to the Nigerian nation and the urgency and intensity of action required to bring the situation under control, adding that the campaign, is however, being conducted in accordance with global best practice."
Marwa further told the gathering some of the strategic steps taken to get positive results by NDLEA. "In every facet of our activities, we endeavoured to adopt innovation. We upgraded our Standard Operating Procedures. We innovated our methodologies, adopted sophisticated tools and systems, and embraced revolutionary paradigms in treatment.
"For instance, to break the jinx of barriers to treatment, NDLEA commissioned a drug abuse tele-therapy centre. This toll-free call centre has a round-the-clock helpdesk to which drug users, their families, and associates can call for assistance, and receive prompt attention from a team of counsellors and mental health professionals.
"The UN conventions encouraged law enforcement agencies in different countries to work in collaboration. We exploit the opportunities maximally by renewing and strengthening our ties with our international partners, such as INL and DEA here in the United States; Narcotics Control Bureau of India; the UK Border Force, and NCA; Germany's Bundeskriminalamt, and the French Police, among others."
The lecture was followed an interactive session during which Marwa answered questions asked by members of the audience especially Nigerians who expressed happiness about efforts being made by the Nigerian government to curtail drug scourge.
Others who spoke at the event include: Dr. Shawn Leigh Alexander, Professor and Chair, Department of African and African-American Studies; Dr. Peter Ukpokodu, a Professor of African and African-American Studies; Dr. Dorthy Pennington, also a Professor of African and African-American Studies and Dr. Amal El Haimeur, Assistant Professor of African and African-American Studies, all of University of Kansas.
They commended Marwa for his leadership skills and commitment to Nigeria and humanity.
Femi Babafemi
Director, Media & Advocacy
NDLEA Headquarters Abuja
Friday 6th October 2023