The Indigeneous People of Biafra(IPOB) has condemned the statement credited to the Nigerian Army linking IPOB to the incessant and destructive sit-at-home orders and enforcement in the Southeast.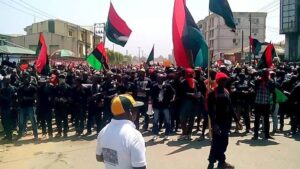 In a statement on Friday, the group, through its Media and Publicity Secretary, Emma Powerful, said the Army Chief, Gen. Lagbaja Taoreed will not claim ignorance of all the previous press releases written by IPOB disassociating itself from Simon Ekpa and his criminal sit-at-home enforcers.
"For the avoidance of doubt, IPOB is not responsible for Mondays nor failed 7-day and purported two-week sit-at-home orders and enforcement."
He said that the reckless and abusive sit-at-home strategy was from the autopilot group led by Simon Ekpa.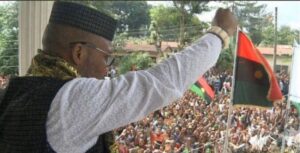 "We have consistently made it known that Simon Ekpa and his autopilot group are not IPOB members and do not represent Mazi Nnamdi Kanu in their violent enforcement of sit-at-home orders.
"Recently, IPOB members rallied in Lahti City in Finland to demonstrate to the world that Simon Ekpa is not an IPOB member that is why he couldn't come out to identify with the protesters.
"Therefore, for the Nigeria Army to associate the reckless sit-at-home enforcement to IPOB is to show that the Nigerian government is using the promoters of violent enforcement of sit-at-home and criminalities in the East to blackmail IPOB and Mazi Nnamdi Kanu.
"General Lagbaja and the government of Nigeria are aware of the man responsible for the violent enforcement of sit-at-home in the East. Why then are they shying away from accusing him? Instead, they prefer to unleash military mayhem on our people in the guise of going after sit-at-home enforcers?
"They know their camps, so why not visit them there and stop them and stop linking this peaceful IPOB agitation to their criminalities. If they are not behind Simon Ekpa, why haven't they made any official complaints against him as a democratic government should?"
He said that IPOB opposes every military intervention in the East because they are usually of evil motives.
"We support them if they arrest the criminals and enforcers of the forceful sit-at-home, but they must do so at their camps. We will not support the government's plan to invade Igbo land because we will continue to protect our innocent fathers, mothers, and youths.
"The Nigeria Army uses every opportunity to extrajudicially murder Igbo people any time they are deployed to the East. That is why we object to their presence as much as we detest the malicious sit-at-home and violent enforcement from agent provocateurs. We oppose military interventions because it will be used to kill and destroy the livelihood of our people."