Nigerians have slammed members of the House of Representatives for collecting brand new Sports Utility Vehicle reportedly worth N130 million each.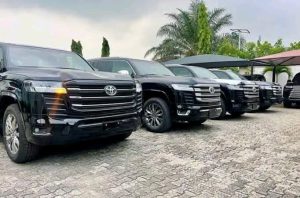 The House had on Sunday, admitted that each of the 360 lawmakers received a brand new Prado SUVs totaling N57.6 billion but claimed the cars were not personal gifts but the property of the National Assembly, reports Daily Sun.
Reacting to the development, founder of Nord Motors, a local vehicle manufacturing company, Ajayi Oluwatobi, said his company proposed its vehicles to the lawmakers and explained how it would be better but they were rebuffed.
"The National Assembly buying foreign built vehicles at this time is dispiriting, especially when you consider that we are all trying to promote buy Nigeria to grow the Naira. A sad part of this is that we (assemblers and manufacturers of vehicles in Nigeria) actually proposed our vehicles and explained how it would make a lot of financial, technical and political sense to buy from us but they did not even entertain the idea for long.
"How can you represent Nigeria but refuse Nigeria, especially when some of us have shown you that we would offer similar top quality at a better price? Why do you want be seen driving a foreign brand when a Nigerian brand can offer you the same quality at a better price? No automotive sector can become successful without the support of the government. The Tesla we see today is the result of years of support from the US government. We want to create jobs but export the opportunities to create jobs to other countries at every chance we get," he said.
Also reacting, former deputy CBN governor, Kingsley Moghalu, said Nigeria is becoming a carcass and the political class its scavengers. He said the actions of the lawmakers showed that Nigeria is not yet serious as a country. "There is a real problem when Nigeria is set to borrow another $1.5 billion from the World Bank for budget support and SUVs worth N160 million each are reportedly to be bought for 360 members of the House of Representatives. We are not yet serious as a country.
"Nigeria is becoming a carcass and our political class, its scavengers! If I were president of Nigeria or governor of a state, no government official will drive a foreign made vehicle at government expense (procurement) when we have local alternatives. That is one demonstration of patriotic leadership and commitment to cutting the cost of governance," he said.
Another financial expert, Kalu Aja said, "If the National Assembly spent those billions to order made in Nigeria cars from Innoson and NORD, it would be stimulative, it would create jobs and boost the GDP of Nigeria. The National Assembly is a first-line waste of taxpayer funds. When you earn N10 and spend N100, you don't have a revenue problem, you have a spending problem" while the founder of BudgiT, Oluseun Onigbinde, said: "Nigeria is too poor to afford the lifestyle of its leaders."