Six members of a family in Nzam community in Anambra West Local Government Area of Anambra State have died in the floods that besieged the area.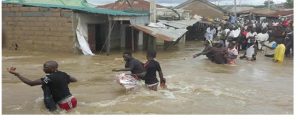 According to sources, the deceased had prepared to leave their home to a safer place before the floodwater surged into their house; and unfortunately, they got drowned.
In a trending video, some youths were seen bringing out dead bodies and lining them up in an upland area of the town.
This is coming not long after some people were reported missing after a boat carrying over 40 people capsized in Umunankwo community, Ogbaru LGA. A man was also said to have drowned in his sleep when a flood submerged his home in the same LGA.
A three-storey church building belonging to Madonna Catholic Parish in the Iyiowa area of Odekpe in the same LGA collapsed in the morning of last Sunday. The church compound was said to have been flooded.
Former President General of Umuzu community in the same LGA, Chukwudum Ndedigwe, told Daily Sun that there was no casualty in the building collapse.
He said that the flooding which has been ravaging many communities in that LGA also affected the church building.
It was gathered that a security man who was around the three-storey building was injured when the building collapsed and was immediately rushed to the hospital where he was given treatment.