According to a French romantic writer and politician, Victor Hugo,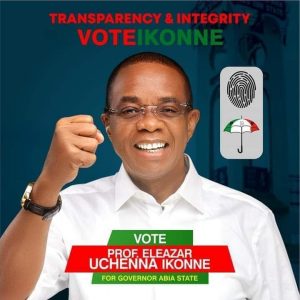 "There is one thing stronger than all the armies in the world, and that is an idea whose time as come". Armies cannot stop an idea whose time has come. No army can stop an idea whose time has come. Nothing is as powerful as an idea whose time has come.
Uche ndi Abia is the idea, Uche ndi Abia is the ideology. Prof Uche Ikonne is the man with the magic wand and sagacity to lead Abia.
Of course, we solely anticipate for a tough battle because it is a conquest but at last, Prof Ikonne is going to be elected by an overwhelming majority of the electorate as their governor in 2023.
He is going to bring out a development master plan that will magnificently transform Abia from its present gutter situation to an Olympian standard. This is a realistic dream because this erudite scholar and distinguished Professor of Optometry will stop at nothing in delivering dividends of democracy to the masses.
As the saying goes, government is a continuum. We have witnessed the previous administrations, but I make bold to state here that Ikonne administration is going to add value to Abia by creditably and effectively answering the much touted and ever lingering Abia questions which are centered on lack of equity, transparency, growth, development and many more!!!
I am confident that Prof Uche Ikonne has the enthusiasm, passion love and above all, the skill and idea, to govern Abia, to move Abia, to develop Abia. This is his dream, mission, vision and idea.
A quintessential administrator of international repute, Ikonne ranks among those, based on their track record, should be handed over the affairs of the masses to because governance is a serious business that should be handled by credible, accountable and transparent personalities. Ikonne has the all the characteristics needed to pilot a state like ours to its pinnacle of greatness. He is humble, disciplined, educated, experienced, and versatile.
Certainly, this slogan Uche ndi Abia, the ideology whose time has come, is a divine creation. Its manifestation will only be felt and noticed when Ikonne assumes office as the executive governor of Abia State on May 29, 2023. And, expectantly, we Abians are happy it is going to happen in our time.
@ Team Ikonne 2023
For publication of your news content, articles, videos or any other news worthy materials, please send to newsmirror14@gmail.com. For more enquiry, please call +234- 808-050-9464 or whatsapp. To place advert, please call +234- 808-050-9464.