Goods worth millions of naira have been gutted in a fire incident that started on Wednesday night at the popular Hewett/Calabar roundabout area, Calabar, Cross River State.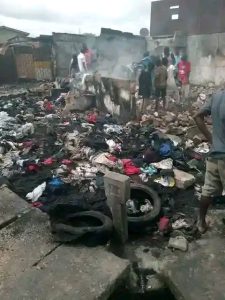 Exactly a day after the celebration of this year's world poverty eradication day, a group of traders were pushed into poverty by fire.
"This is the first time, some thing we use to see in movies, we never knew, still in terrible shock. This raging fire destroyed million worth of goods, the very source of our existence, the traders lament."
The Chairman of the Mall, Chief Sir L Iwuala, a trader in the affected shopping complex, said goods worth over eighty million was destroyed by the fire, that nothing was salvaged from the inferno despite the efforts of the combined team of fire fighters, from the state fire service, airport, Tinapa and the NPA. It was a terrible situation.
Taskforce Chairman of Hewett/Eyo Edem Traders Association Alloy Chukwu described the fire as worrisome.
Alloy said he wasn't able to salvage anything from his shop because the fire service came few hours after the fire started.
Another shop owner and secretary of Hewett/Eyo Edem Traders Association Sunday Ogbonna who sells shoes and clothing apparels appealed for help, stating that he lost everything in the raging fire.
He said, "The fire service came few hours after the fire started. We tried using fire extinguisher, but the fire was much, so we couldn't do much to contain it."
A shop owner, Lady Iwuala, who has a provision shop at the market told NTA that she lost everything in the fire.
The provision seller said her goods were her only source of livelihood and appealed to the government for help.
A politician and also the managing director of the popular Evergreen Educational, whose shop also got burnt, told NTA that no one was injured in the fire.
He also appealed for the government's help to enable..